Death of Bond Volatility Has Pimco Fearing for Europe's Future
(Bloomberg) -- Want the lowdown on European markets? In your inbox before the open, every day. Sign up here.
Europe's bond volatility is grinding to a halt, leading investors including Pimco to fear the region's economy and markets are spiraling toward their own version of Japan's lost decade.
"There's a strong probability that what happened in Japan two decades ago is currently unfolding in the euro zone right now," said Andrew Bosomworth, a money manager at Pacific Investment Management Co. "It probably means the Japanification of capital markets -- lower yields for a longer time. Maybe forever."
Price swings in the European sovereign debt market are the most depressed in history, according to a Merrill Lynch index. That has already helped push benchmark German Bund yields to the lowest in two years and spurred record demand for the higher returns from riskier peripheral debt. As trading opportunities dry up, money may continue to be pushed into bonds, depressing yields further.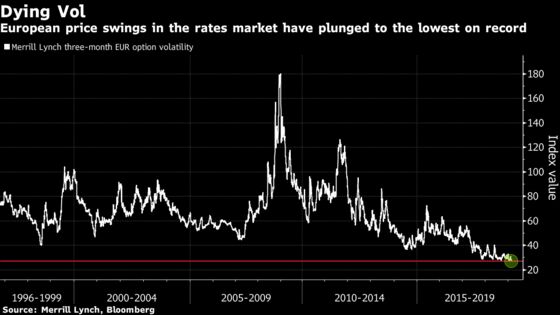 The moribund markets reflect a region undergoing a rapid deterioration in fortunes, with some economies flirting with recession, in a year supposed to see tentative monetary policy normalization. That leaves investors doubting the European Central Bank will be able to extricate itself from a negative interest-rate policy, mirroring Japan's struggle to revive its economy from years of flat-lining growth.
The Asian nation became the first to cut borrowing costs to zero 20 years ago, eroding debt-price swings and trading volumes. The low volatility trend was exacerbated by the country's central bank implementing a bond curve control policy in 2016, limiting the range that 10-year yields could go either side of zero percent. Markets responded by pushing down yields.
The ECB's inflation and growth forecasts will be extensively cut in 2019, with the former also lowered through 2021, according to people with knowledge of the matter, who declined to be identified because such matters are confidential. That will be enough to justify more stimulus in the form of another bout of loans for banks, they said.
Pimco's Bosomworth pointed to parallels between the euro zone and Japan's experience on the time it's taking to clean up non-performing loans in the banking sector and on ageing populations, an "elephant in the room" that is leading to lower structural inflation. That is likely to mean central banks keep rates low for decades, he said.
"If what we're looking at through the demographic, banking sector lens is correct, then we may never have this turn in interest rates," Bosomworth said. "And if we do, then we should just jump on it and fade it. It's hard to see how an increase in yields can be sustainable."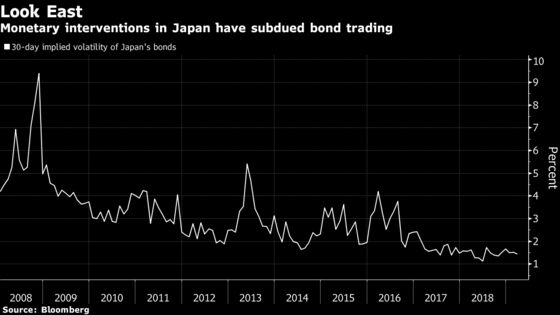 Other investors are also getting deja vu. While Japanese 10-year yields fell into negative territory in January, German Bund yields are now heading toward zero percent, a level last seen in 2016. Bank of America Merrill Lynch calculates a 76 percent correlation between the path of Japanese and euro-area bond yields.
"The collapse of bond volatility and convergence of European core bond yields to Japanese government bonds is a sign Europe is facing the risk of structural low inflation," said Ben Emons, the managing director of global macro strategy at Medley Global Advisors.
A Merrill Lynch index for euro rates options volatility over three months touched the lowest on record last month. The euro-dollar -- the world's most actively traded foreign-exchange pair -- is on track to post its tightest quarterly range since the birth of the common currency two decades ago.
"While history is never meant to repeat itself, it does seem to be coming close," wrote Bank of America Merrill Lynch strategists led by Barnaby Martin. "Interest rate vol in Europe has fallen to a record low and is yet again driving a conspicuous reach for yield."
Traders betting on "lower-for-longer" are flattening both nominal and inflation-linked yield curves in Europe, while bonds of historically riskier nations, such as Spain and Portugal, have rallied. Those bonds offer some of the highest "carry," or larger coupon payments, that are a worthy investment should volatility stay low and political turbulence muted.
It's also why the rally in Bunds may not be done yet. The securities provided one of the few sources of returns for investors last year as the Federal Reserve hiked and the bull run in equities drew to an end.
"We have been in a trap for a long time and little chance of escape yet," said Richard Hodges, a money manager at Nomura Asset Management. "Inflation is benign, no matter how much quantitative easing has helped the ECB reach their target. As a fund manager we continue to have little choice but to buy fixed income."