New Deal Ensures Crucial U.K. CO2 Supply, For Now at Least
(Bloomberg) -- The U.K. food and drink industry averted the threat of a fresh carbon-dioxide supply crisis after agreeing to pay more for the gas from fertilizer company CF Industries Holdings Inc., which makes it as a byproduct.
With a three-week government-brokered solution about to end, a U.K. subsidiary of CF Industries reached an agreement on CO2 pricing with customers to allow it to keep its Billingham site running through at least January. That will secure output of the gas used in everything from food processing to the nuclear power sector while prices for natural gas -- a key fertilizer feedstock -- remain high, the government said.
Continued supply of CO2 is good news for meat and drink producers, who rely on it to keep slaughterhouses and soda plants running. But it may prove just a quick fix, and CF Industries warned that users need to look for new sources of supply. For consumers, there's also still the risk that higher CO2 costs filter through to grocery stores, at a time when the food sector is grappling with labor and truck-driver shortfalls.
"Although welcome news, the increased cost of buying CO2 is yet another burden on the food and drink industry, which is already facing enormous stresses," Ian Wright, chief executive of the Food and Drink Federation, said in an emailed statement. "This will, of course, add more pressure on prices for shoppers and diners."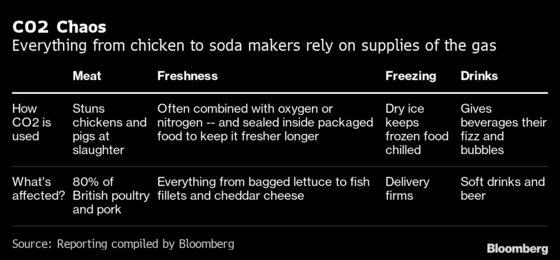 Gavin Partington, chief of the British Soft Drinks Association, said the industry group also welcomed the news, adding that it would alleviate short-term supply pressures, but he reiterated that CO2 comprises "only a small percentage" of costs. 
"The significantly higher prices for supply only add to the economic pressures already facing manufacturers, including the shortage of HGV drivers for distribution," Partington said. "We continue to urge longer-term interventions to ensure the CO2 market is more resilient and stable."
The new accord follows three weeks of financial government support to help cover the plant's operating costs. The company, which produces about 60% of the country's commercial CO2 supply, had shut two U.K. facilities in September due to surging natural-gas prices. The plant in Chester will remain offline and there's no estimate for its restart date, CF said.
The shutdowns proved a major blow to the food and drink industry, which relies on CO2 for stunning pigs and chickens at slaughterhouses, carbonating beer and soda and extending the shelf life of fresh food. The meat sector warned that abattoirs could grind to a halt within weeks without a fix and retailer Ocado Group Plc stopped supplying frozen products due to a lack of dry ice. 
"It is expected that the U.K. government and industrial gas customers will develop robust alternative sources of CO2 as part of a long-term solution for meeting demand in the country" while the deal through January runs, CF said in a statement. 
Ensus Ltd., another major CO2 producer, also reopened a plant in Wilton, England last week after temporary closures for planned maintenance, further ensuring supplies, the government said. The nuclear industry and hospitals also rely on the product.