De Blasio Says Brooklyn Virus Cluster Needs 'Urgent Action'
(Bloomberg) -- New York City Mayor Bill de Blasio said a recent uptick of coronavirus cases in south Brooklyn and Queens neighborhoods requires "urgent action," including stepped-up testing, education and enforcement.
"We have a lot to do, because we are seeing a serious uptick in multiple neighborhoods simultaneously," de Blasio said during a news briefing Wednesday. "It's something we have to address with a very aggressive public health effort right away."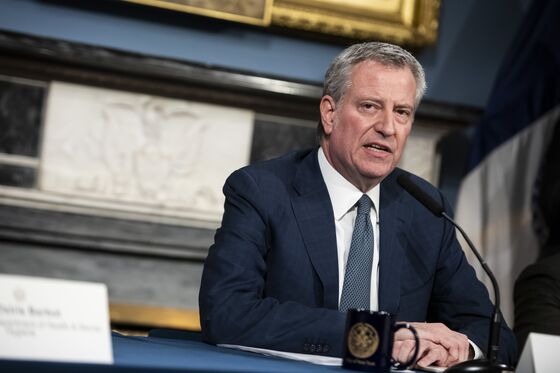 Since the first week of August, the rate of positive tests has climbed to 4.71% in Midwood, Borough Park and Bensonhurst; 3.69% in Edgemere-Far Rockaway; 2.24% in Kew Gardens and 2% in Williamsburg. The four areas make up 20% of all cases reported citywide as of Sept. 19, according to the municipal health department. Across New York City, less than 1% of residents tested positive on Sept. 21.
Some of the hot spot communities have large Orthodox Jewish neighborhoods, said health department spokesman Patrick Gallahue. "We've carried out outreach to a number of communities, including Orthodox communities." The health department said large indoor gatherings "must be avoided" and face coverings worn. It urged residents to get tested.
De Blasio said the outbreak was more serious and widespread than a spike of cases last month confined to the Brooklyn neighborhood of Sunset Park, which was controlled with intense testing and contact tracing.
New York City, the early epicenter of the U.S. coronavirus outbreak, has slowed the spread and begun reopening after months on lockdown. In-person school began Sept. 21 for pre-kindergarten and special education students, and is slated to start Sept. 29 for elementary-school and Oct. 1 for middle- and high-school students. The mayor said the city didn't intend to stop that plan "at this time."
"It's something we're keeping a constant eye on," de Blasio said, when asked about whether schools within the local zones might be affected. "If we think there's a danger to a school community, we're going to act."
The current outbreak, which Health Commissioner Dave Chokshi said was identified only within recent days, has forced the shutdown of two religious schools.
Sound trucks are rolling through the identified neighborhoods and nearby areas warning New Yorkers to "stay home if you're sick, maintain physical distancing, wear a face covering and practice hand hygiene," said Mitchell Katz, president of the city's public hospital system. He said he lost his father-in-law to the coronavirus in Israel two nights ago.
If infection rates continue to spike, the city will enforce more lockdown restrictions, as has occurred in Israel, said Katz. "They haven't been able to control the spread of the virus," he said. "We don't want to again close down businesses. We don't want to again have restrictions."
Twenty synagogues have been visited throughout Borough Park and Brooklyn, and 200,000 robo-call warnings have been sent in Yiddish and English. In addition, ads have been placed in community newspapers, and thousands of masks have been distributed.
Citywide, the health department reported a seven-day average of 326 cases, well below its threshold of 550 that would signify a citywide spread of the virus. Only 0.75% tested positive for Covid-19, and among those hospitalized with coronavirus-like symptoms, only seven tested positive.
New York City has reported more than 236,000 cases, which is more than half of all the cases in New York state. At the height of its outbreak, it was reporting more than 6,000 cases a day.