De Blasio Says NYC Virus Progress Is Not Enough to Reopen
(Bloomberg) -- New York City is making progress fighting the outbreak, but not enough to warrant reopening yet, Mayor Bill de Blasio said.
Daily hospital admissions for Covid-19 have fallen to about 136 as of April 29, from a high of 850 a month earlier. The number of intensive-care patients in public hospitals has dropped to 704 from a high of 887.
Those hospitals are "still experiencing a lot of strain," de Blasio said Friday at a press briefing. "We need to get to the day when there are no or almost no New Yorkers fighting for their lives."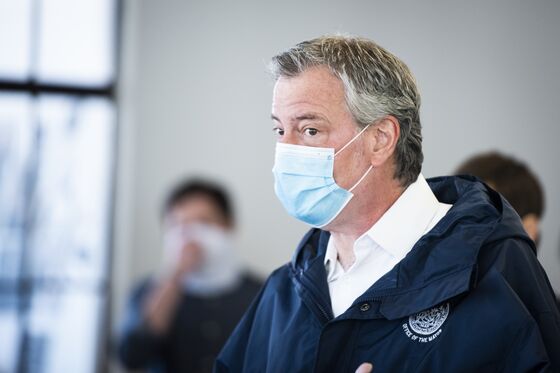 The city still is seeing widespread transmission "by any measure," especially the number of new cases and new deaths, the mayor said.
New York City reported 162,212 cases and 12,571 confirmed deaths as of April 29. That's an increase of 2,347 cases and 284 deaths from those reported as of April 28.
"If you open up too soon you can pretty much expect a resurgence of this disease," the mayor said. "That's what we won't allow."