Data Breach Risks Reminding Chegg Clients of Old Accounts
(Bloomberg) -- Chegg Inc. shares drop for a second day as investors continue to try and assess the potential price tag from a database hack.
"The cost of the breach to Chegg remains uncertain," Morgan Stanley analyst Brian Essex wrote in a note. Investors seem to be mostly concerned with how the data breach will affect subscriber growth, he added.
The provider of online educational services' shares fell 12 percent Wednesday, the most in more than two years, after Chegg disclosed the incident, and declined an additional 2.1 percent Thursday. Nearly $500 million in market value has been erased since the incident was disclosed.
The biggest issue will probably come from subscribers who didn't realize they were still paying for the services, Essex highlighted, as the email notification to reset their passwords may serve as a reminder of their subscription. "This may prompt some that no longer use the service to cancel, in turn driving lower 4Q subscriber numbers," he wrote.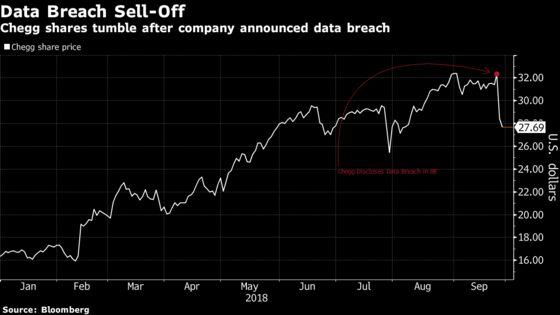 Analysts are holding their ground. The hack failed to lead to any downgrades or reductions in price targets from the 11 analysts whose ratings are followed by Bloomberg. And despite the stock's two-day tumble, shares aren't too far from the average analyst target of $30. Before the announcement Tuesday, Chegg shares were on a roll in 2018, having doubled in price to more than $32.
The negative share reaction is not a surprise when looking at other companies that faced hacks. Equifax fell a comparable 14 percent on September 8, 2017, the day following the company's disclosure of a cybersecurity incident. That, however, initially affected 143 million U.S. consumers versus Chegg's 40 million.
Chegg didn't expect the hack to materially impact full year results, and the company reiterated its 3Q forecast Tuesday. "We believe CHGG will outgrow the issue but it may take a quarter to fully resolve," Essex wrote.