Darlings Thrown Out as FANG Stocks Suffer Biggest Drop on Record
(Bloomberg) -- Tech mega-caps just took it on the chin.
The FANG block of Facebook Inc., Google parent Alphabet Inc., Amazon.com Inc. and Netflix Inc. sank 6 percent Wednesday, the most since at least 2012. About $125 billion was erased in market value as investors rushed to exit some of this year's winningest stocks. The money lost is more than roughly 460 companies in the S&P 500 are individually worth.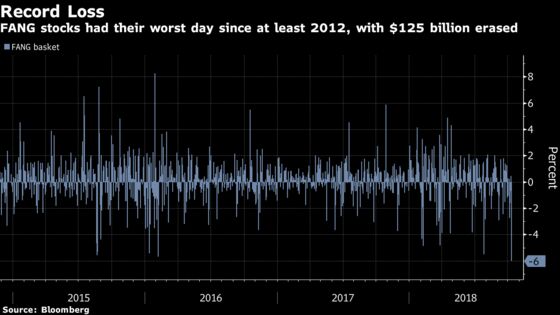 Theories on the plunge abound, with reasons ranging from higher bond yields to a China-U.S. trade spat surrounding technology. What's clear is that as the broad market catered, the most liquid and best performing stocks such as FANG were vulnerable to profit taking.
The drop extended the group's decline since their July peak to 15 percent. Still, up 24 percent since January, their gains easily beat the 4 percent for the S&P 500.