Darden Surges as Olive Garden's Lower Prices Lure U.S. Diners
(Bloomberg) -- Darden Restaurants Inc., the owner of the Olive Garden and Longhorn Steakhouse chains, jumped as much as 5.2 percent after reporting comparable sales that beat expectations in the latest quarter. The company also boosted its full-year profit forecast.
It looks like efforts to lure customers with lower prices are starting to work. While Olive Garden has recently gotten rid of some popular marketing and short-term deals, the chain has been touting lunch for $6.99 and for $9.99. The chain's comparable sales were up 5.3 percent -- double the estimate of 2.6 percent growth from Consensus Metrix.
Darden's two biggest franchises are pulling most of the weight. Longhorn Steakhouse and Capital Grille also beat comparable sales estimates, while Seasons 52 and Bahama Breeze fell short. Longhorn and Olive Garden together represent about 72 percent of Darden's revenue.
The company's higher profit outlook for fiscal 2019 appears to come from optimism across the board. The company raised its growth forecast for same-restaurant and total sales and predicted a lower tax rate.
Darden shares rose as much as 5.2 percent to $124 on Thursday. The stock had already gained almost 23 percent this year through Wednesday's close.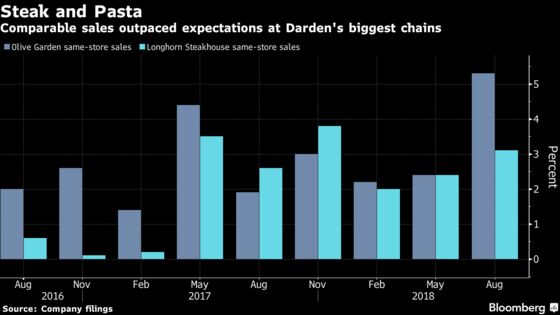 Quarterly results and outlook: 
Sees FY EPS from continuing operations $5.52 to $5.65, saw $5.40 to $5.56, estimate $5.54 (range $5.22 to $5.70) (Bloomberg data)
Sees FY comparable sales +2% to +2.5%
1Q sales $2.06 billion, estimate $2.03 billion (range $2.01 billion to $2.04 billion) (BD)
1Q adjusted EPS from continuing operations $1.34, estimate $1.24 (range $1.16 to $1.27) (BD)
1Q comparable sales +3.3%, estimate +2.1% (Consensus Metrix, average of 22 estimates)
1Q Olive Garden comparable sales +5.3%, estimate +2.6% (CM, average of 23 estimates)
1Q Longhorn comparable sales +3.1%, estimate +2.4% (CM, average of 23 estimates)
1Q Longhorn same-restaurant traffic -0.3%
1Q Olive Garden Same-Restaurant Traffic +1.5%
1Q Capital Grille comparable sales +3.9%, estimate +2.1% (CM, average of 22 estimates)
1Q Bahama Breeze comparable sales +1.1%, estimate +1.3% (CM, average of 22 estimates)
1Q seasons 52 comparable sales -1.9%, estimate +1.4% (CM, average of 21 estimates)
Boosts Forecast for Year
Sees FY Comp Sales +2% to +2.5%, Saw up 1%-2%