Danske Shareholders Unnerved by Laundering Raid at Deutsche Bank
(Bloomberg) -- The two European bank stocks faring worst on Thursday have one big thing in common: money laundering allegations.
Danske Bank A/S, which is at the center of one of Europe's worst ever dirty money cases, fell as much as 3.8 percent in Copenhagen. Investors started selling after learning that Deutsche Bank AG's offices had been raided by police in connection with a separate laundering probe. It fell as much as 4.9 percent.
Though German prosecutors said the Deutsche raid was tied to revelations in the Panama Papers and not to anything linked to the Danske case, the headlines were enough to unsettle shareholders in Denmark's biggest bank.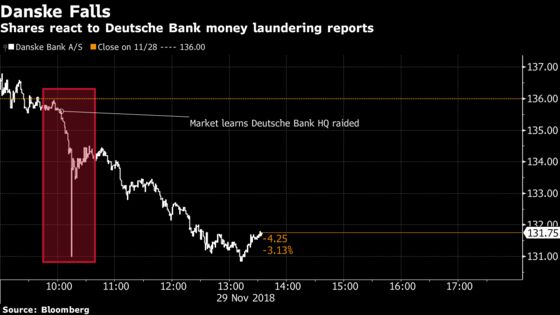 "It doesn't take much to make Danske Bank investors nervous these days," Mikkel Emil Jensen, an analyst at Sydbank, said by phone. "It looks like the Deutsche raid isn't linked to Danske, but there's a lot of uncertainty out there. And we know that there were links between Deutsche and Danske's transactions."
Deutsche was a key correspondent bank for Danske while it was allegedly being used to launder billions of dollars, mostly from Russians and as recently as 2015. Denmark's financial regulator has signaled it expects the supervisors of Danske's correspondent banks to investigate those dealings.
Danske is already being investigated by the U.S. Justice Department, and Denmark's state prosecutor this week filed preliminary charges against the bank.
Danske used Deutsche, JPMorgan Chase & Co. and Bank of America Corp. to convert potentially suspicious funds into dollars and euros. According to analysts at Bloomberg Intelligence, the three "may face significant fines from U.S. authorities" eager to send a message to correspondent banks. But Deutsche "may face the most exposure," the analysts wrote in October, because it kept its relationship with Danske longer than the others.
According to Bloomberg Intelligence, Danske faces U.S. fines of less than $1 billion.