Danske's $13 Billion Slump in Value Far Exceeds Potential Fines
(Bloomberg) -- The stock-market beating that Danske Bank A/S has taken for its role in one of Europe's worst money laundering scandals far exceeds the fines it may face, and investors are now wondering whether it's time to buy shares in Denmark's biggest bank.
Danske has admitted that about $234 billion flowed through its unit in Estonia between 2007 and 2015, and says a large part of that needs to be treated as suspicious. Chief Executive Officer Thomas Borgen has resigned in disgrace and criminal investigations are ongoing.
Since a peak in Danske's share price in May last year, a steady stream of news of its laundering scandal has frightened investors into selling off the stock, and its market value has plunged about $13 billion in the period.
This year alone, Danske's market value has fallen by about $8 billion, which Citi Research analyst Ian Sealey says reflects assumptions of how big a fine the bank faces. Given the extent of the selloff, Sealey says he now expects Danske's stock to jump 50 percent over the next 12 months.
On Thursday, shares in Danske rose almost 5 percent, more than recouping the previous day's 3.4 percent decline. Even so, the stock is down 27 percent this year, making Danske Europe's worst performing bank in the period, after Deutsche Bank AG.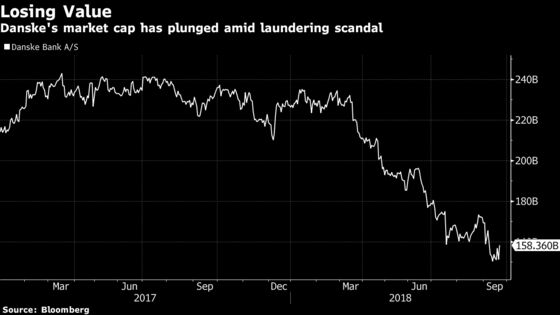 Sealey is one of a number of analysts advising clients to buy Danske shares. Of the 14 equity analysts who reviewed their ratings since the bank's Sept. 19 report, not one is telling investors to sell, according to data compiled by Bloomberg.
Recent fines suggest investors may have overreacted to the Danske story. ING Groep NV struck a $900 million settlement for its laundering breaches, while Deutsche Bank was fined almost $700 million. Bloomberg Intelligence estimates that Danske will face fines of about $1.2 billion and a Bloomberg News survey points to about $800 million. The Danish government has warned that Danske may be charged $630 million.
A key question remains whether the U.S. will seek penalties. Jeppe Kofod, one of Denmark's representatives in the European parliament and spokesman on money laundering, said he's talked with the U.S. Treasury Department and it's following the Danske case "closely."
Fines are "one of the key risk factors that are still outstanding," Henrik Poulsen, chief investment officer at long-time investor PFA Pension, said on Wednesday.
So far Danske hasn't made any provisions for fines in its accounts, aside from a 1.5 billion-krone ($236 million) "donation" the bank says it wants to make to society (the amount reflects Danske's profit from the Estonian unit under investigation.)
Analysts point out that it's difficult to say with any certainty what action, if any, the U.S. will take. Danske doesn't hold a U.S. license and doesn't clear dollars. Wednesday's report said no breaches of sanctions had been identified, "so far."