A Danish Scandal Is a Headache for the World
(Bloomberg Opinion) -- It's probably not the best idea for a bank CEO to apologize for a scandal until its full extent is known.
It turns out that the scale of alleged money laundering at Danske Bank A/S, may be much worse than previously estimated back in May. The Danish lender's Estonian operations may have been used to launder as much as $8.3 billion between 2007 and 2015, twice previous estimates, according to a local news report. So far, the bank has received little more than a stern ticking off and a request to hold more capital by the national regulator.
Danes are right to wonder whether harsher punishments are in store. Danske CEO Thomas Borgen said in May he was "very sorry" and that the bank is "in a very different place today" when it comes to fighting financial crime. But the regulator made sure to leave its enforcement options open until the bank completes its inquiries.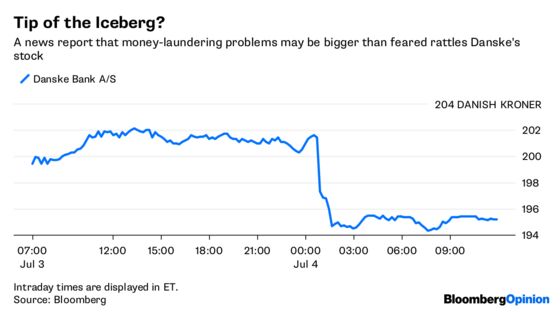 Shares in the bank fell as much as 3.6 percent on Wednesday, suggesting there's lingering uncertainty. The consequences for the bank are more likely to be "emotive" than financial, according to Bloomberg Intelligence. The repercussions for Danish regulators and the way regulators police banks internationally are likely, however, to be broader.
With the bank's final report due later this year, Denmark will want to show it's a credible line of defense in the fight against money laundering. The list of warning signs at Danske was very long. The bank's Estonian non-residents' unit was generating returns in excess of 400 percent at the time of the alleged money flows – a glaring red flag. The unit didn't even have an anti-money-laundering chief for most of 2013. The case will be a landmark test for a country that was told to do more to guard against this kind of risk in 2017 by the Financial Action Task Force.
But it's important for Europe and global authorities to pay attention to the international nature of this case. The Danish regulator's report, and evidence uncovered by anti-corruption reporting organizations, paints a picture of money flowing from Russia into the European Union via Baltic banks using U.K.-registered shell companies. There are possible weak links everywhere. A whistleblower at Danske took action after spotting false data being submitted to Britain's corporate register, Companies House. That strikes at one of the hubs of global finance.
European regulators are slowly stirring into action, helpfully prodded by the U.S.'s tough warnings against illicit money flows from Latvia. Local authorities in the Baltic states are piling in with probes, and supranational regulators are responding to pressure to take action. In March, the European Central Bank took away Estonian lender Versobank's licence after allegations of criminal activity. There's more to be done: the ECB's outgoing top banking cop, Daniele Nouy, has recommended a more unified fight against money laundering, with harmonized rules across Europe.
Whatever happens at Danske, focusing on banks' compliance failures and regulatory enforcement is only one part of the story. The swelling size of the alleged money laundering points to the need to share information across borders better and make sure there are sufficient resources to police it. If that doesn't happen, it won't just be Denmark that suffers.