Danske Has About $2.7 Billion as Buffer Against Fines, CEO Says
(Bloomberg) -- Danske Bank A/S has built a capital buffer of as much as $2.7 billion to absorb potential fines as it deals with the fallout of its role in one of Europe's worst ever money laundering scandals.
Acting Chief Executive Officer Jesper Nielsen says the amount "significantly" exceeds what Denmark's regulator has ordered Danske to hold in connection with the laundering case. Speaking in an interview on Monday, he also said the bank is continuing to build that reserve.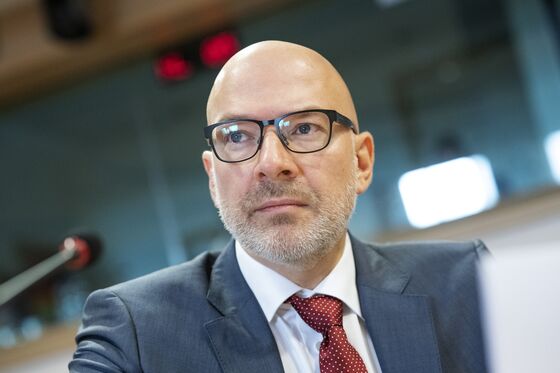 Nielsen said that's because the bank wants to "basically do what it takes to create the confidence needed to show we are strong and well capitalized."
Danske is being investigated by the U.S. Justice Department after acknowledging its Estonian operations were a central causeway in Europe for illicit funds from the former Soviet Union. The case spans at least nine years into 2015 with about $230 billion in flows under scrutiny.
Denmark's regulator told Danske to hold about $1.5 billion in capital to prepare for potential penalties, prompting the bank to shelve its share buyback program.
Capital Details

Denmark's FSA this year ordered Danske to add 10 billion kroner to its Pillar 2 capital requirement to deal with the fallout of the laundering scandal. Nielsen said on Monday the bank now has somewhere between 15 billion kroner and 18 billion kroner, depending on how it's counted. 
Investor anxiety about how much Danske may be facing in fines has driven the bank's share price down by about 45 percent this year, wiping roughly $16 billion off its market value.
Nielsen, who became acting CEO after Thomas Borgen was forced out in October because of his role in the laundering scandal, says Danske will keep setting aside profits to build capital. But the lender intends to maintain its dividend policy, he said in Copenhagen.
Denmark has already brought preliminary charges against Danske, focusing on its failure to adequately screen suspicious clients. Nielsen said the bank is "not in a position to contest a lot."
"What we're doing right now is cooperating with authorities," he said.
Nielsen has been named as a possible permanent replacement for Borgen. On Monday, he signaled he might consider the job, saying he would "discuss it" with his family if asked by the board.
Nielsen also said Danske is continually looking into selling non-core assets, though he said such divestments were not viewed by the bank as a way to generate more money to cover potential fines.
"If you look at the overall portfolio, if you look at that in a Nordic core perspective, I think we're open for different dialogues, obviously, and I think that's the message we've sent," he said. "And I don't think I should speculate further on that."
Danske is capable "of withstanding even rather large sanctions" because it's "well capitalized," Nielsen said.
"We understand that there's a big question mark over Danske Bank at this point in time," he said. But from a capital-generating standpoint, "I think we have a very strong business," he said.