Danske Receives Preliminary Charges Over Money Laundering
(Bloomberg) -- Danske Bank A/S said it has received preliminary charges from Danish prosecutors in the case involving possible money laundering at its Estonian branch.
Danske said it faces four counts, all relating to the period from February 2007 to the end of January 2016, according to a statement published on Wednesday. The charges were filed by the Danish State Prosecutor for Serious Economic and International Crime, known as SOIK.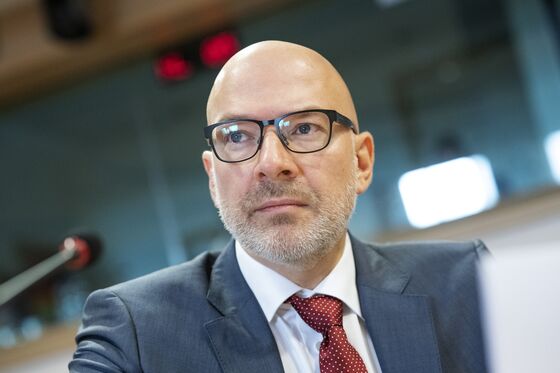 "We did expect to be preliminarily charged by SOIK in continuation of the findings and conclusions of the investigations we presented in September this year," Jesper Nielsen, Danske's acting chief executive officer, said in the statement. "We will, of course, cooperate with SOIK and make ourselves and the knowledge we have available in relation to the ongoing investigation."
SOIK opened in August its investigation into what may be one of Europe's biggest money laundering cases. Danske has admitted that much of about $230 billion that flowed through its tiny Estonian unit may need to be treated as suspicious. The bank is under criminal investigation by the U.S. Justice Department and may be facing billions of dollars in fines.
Under Danish law, prosecutors may file a preliminary charge if they suspect a crime was committed. The step allows the investigation to continue before prosecutors decide whether to take the case to court.
Danske bank shares closed 0.7 percent higher in Copenhagen. They are down about 44 percent this year as uncertainty over the scope of fines has unnerved investors.
Read more: Danske Shareholders Shrug Off Latest Money Laundering Chapter
"Today's charges were well known and don't add to the bad news flow for Danske," Per Hansen, an investment economist at Nordnet, said in a note. "For investors, it's crucial whether U.S. authorities get involved and how large possible financial sanctions may be."
In a separate statement, SOIK said the preliminary charges only concern Danske as a corporate entity and aren't directed at any individuals. The case has already cost the jobs of CEO Thomas Borgen, who left last month, and Chairman Ole Andersen, who's due to be replaced next week.
Danske's management in Copenhagen failed to have adequate control of the branch's compliance with guidelines and failed to instruct and train staff members in the rules of the Danish Anti-Money Laundering Act.
The bank failed in establishing procedures to determine whether its non-resident customers or the beneficial owners of its non-resident customers were politically exposed persons.
Danske didn't have sufficient knowledge of the customers in the non-resident portfolio.
The bank didn't on a regular basis perform adequate investigations into the business and transactions of the branch's non-resident customers, including transactions processed by Danske's systems in Denmark.