Danish Inflation Jumps in January After Weak Ending to 2018
(Bloomberg) -- Danish inflation accelerated in January to its highest rate since November 2017 after a series of weak readings in the final quarter of last year.
The consumer price index jumped to 1.3 percent from a year earlier, up from 0.8 percent in December, the Copenhagen-based statistics agency said Monday.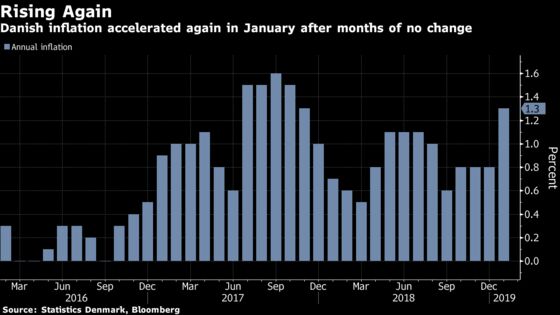 Annual inflation had remained steady at 0.8 percent during the final three months of 2018; the monthly rate rose 0.2 percent in January after falling in November and December.
Statistics Denmark said the main reason for January's increase was higher food prices
As of January, the TV license is no longer included in Denmark's basket of consumer prices; the change ensures consistency with European Union data
Tore Stramer at Nykredit says inflation remains weak considering Denmark is experiencing a "moderate boom" (the forecast is for a rate of 1.5 percent in 2019). This has boosted real incomes, with average Danish household's purchasing power increasing by about DKK 7,500 ($1,140) over the past year.
For more details on inflation, see this table.