Danish Economic GDP Indicator Disappoints as Growth Rate Falls
(Bloomberg) -- Go inside the global economy with Stephanie Flanders in her new podcast, Stephanomics. Subscribe via Pocket Cast or iTunes.
Denmark's economic growth rate slowed to 0.3% in the first three months of the year, according to a trend indicator from Statistics Denmark that disappointed economists.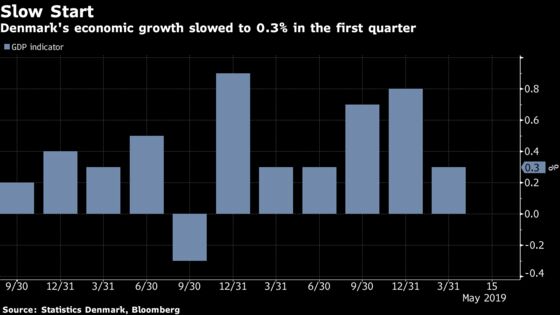 The service sector was a significant contributor to GDP growth, which rose 0.8% in the final quarter of 2018.
The trend indicator is a first estimate and carries a margin of error of more than 0.5 percentage points. Economists have in the past highlighted that Danish GDP data is particularly unreliable.
The International Monetary Fund on Monday highlighted Denmark's "impressive" economic performance and high standards of living this week as it forecast an annual GDP growth rate of 1.7% in 2019. The IMF cited a sharper-than-expected slowdown among its main trading partners, a disorderly Brexit, high household debt and elevated house valuations as potential concerns.
Robust growth and low unemployment have pushed the economy down the list of voters' concerns ahead of a general election scheduled for June 5.
Las Olsen at Danske Bank said he had expected a higher number and that the best was probably behind for the Danish economy. There is a risk of "stagnation" or even a slowdown in the coming years.
Bo Sandberg of the Danish construction association said the economy was resilient in the face of a slowdown among Denmark's neighbors and the global uncertainty from Brexit and the trade war. "The Danish economy is boring in a good way."