Denmark Posts 'Solid' 2018 Growth as Unemployment Edges Down
(Bloomberg) -- Denmark's economy expanded at a quarterly rate of 0.7 percent in the final three months of 2018, according to preliminary estimates from Statistics Denmark, delivering what economists described as a "solid" annual growth rate of 1.2 percent.
The labor market also started 2019 on a positive note, with unemployment edging down to a decade low.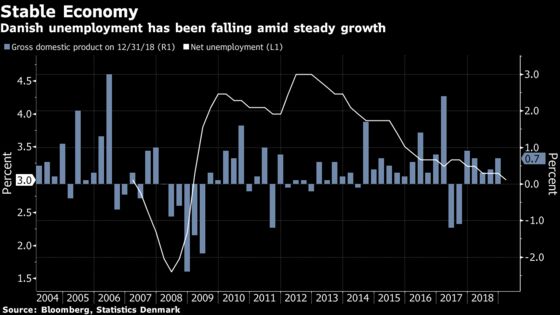 Thursday's GDP data was slightly below the trend indicator reading of 0.8 percent and came a day after the European Union warned that Danish companies were "increasingly reporting shortages of skilled workers" and that the government was "falling behind on its 2025 targets to boost productivity growth and the supply of labor."
The GDP readings for 2018 are negatively affected by a one-off transaction linked to the sale of a Danish patent in 2017.
Gross unemployment came in at 3.7 percent in January (down from 3.8 percent) while the net rate, which excludes those engaged in training programs, came in at 3 percent, the statistical agency said.
Soren V. Kristensen at Sydbank called the GDP reading "solid," with exports and consumption both up. The bank is forecasting an annual rate of 1.7 percent in 2019.
Tore Stramer at Nykredit said the Danish economy was holding despite global uncertainty, but noted that GDP estimates have often been revised in the past.