Daily Covid Cases in U.S. Drop Below 50,000 for First Time Since October
(Bloomberg) -- The daily count of Covid-19 cases in the U.S. fell to 48,092 on Monday, the lowest number in more than four months.
More than a dozen states posted fewer than 100 new cases per million residents -- most of those in the West and Midwest. California infections dropped to 3,516, less than 1/10 of their winter peak, and Missouri reported just 192 new cases, according to Covid Tracking Project data.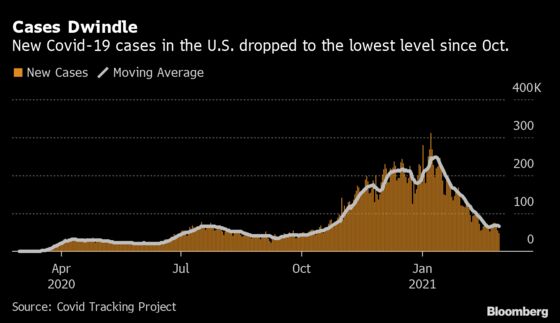 The decline comes as testing has recovered from a lull, and daily deaths and hospitalizations shrank. New cases in nursing homes, where residents are actively being vaccinated, hit the lowest level since at least late May, when the tracking project began compiling data.
The respite is complex and potentially temporary. Though the national total was lower, case averages Monday in 16 states and Washington D.C. were rising compared with the prior week. More than 2,400 incidents of more-infectious variant cases have been detected, according to the U.S. Centers for Disease Control and Prevention.
Still, as the country's vaccination efforts progress, the pool of available hosts for the virus gets smaller, and those most susceptible to serious infection are protected. That should translate to reduced hospitalizations and deaths even in the event of future spikes.
The seven-day average daily pace of shots was 1.82 million Monday, according to the Bloomberg Vaccine Tracker.
Johns Hopkins University data show there have been more than 514,662 deaths cumulatively in the U.S.
According to Covid Tracking Project data:
New York has the most people currently hospitalized with the virus, at 272 per million.
Arkansas reported the most new cases per million residents at 549, though weekend reporting delays may have inflated the number.