Czech Rate-Hike Case Gets Extra Boost From Sudden Economic Jump
(Bloomberg) -- Czech economic growth surprisingly quickened in the fourth quarter, joining an inflation spike in boosting arguments for higher borrowing costs.
Bucking the trend of a pan-European slowdown, Czech gross domestic product expanded 2.9 percent from a year earlier, beating estimates and recording the highest rate of annual expansion in three quarters. The main growth driver was foreign demand, while a significant contribution also came from domestic spending on investment goods, the statistic office said in a preliminary reading published on Friday.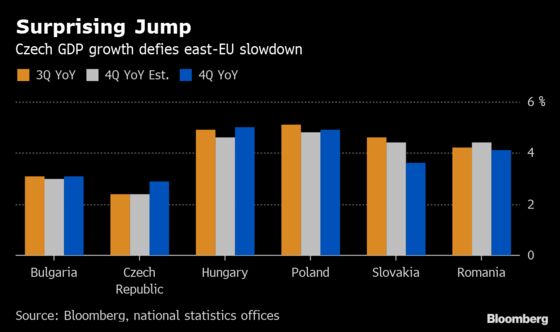 The report came only two days after January data showed consumer price growth exceeding all forecasts and the highest core inflation rate on record. After an unprecedented five rate hikes last year, the Czech central bank held its benchmark for a second meeting last week, saying it wants to assess the impact of global risks before it resumes policy tightening.
"The quickening of core inflation and stronger-than-expected GDP growth support the arguments of those central bankers who are seeking higher rates," said Radomir Jac, chief economist at Generali Investments CEE in Prague. "The financial markets will be rather nervous already before the next policy meeting on March 28, where the board will certainly note the growing inflation risk."
Most central bankers agreed that delaying the rate increase on Feb. 7 represented only a small risk because the next hike can come at one of the future policy meetings, according to minutes from the meeting. The panel voted 5-2 to hold the benchmark at 1.75%, with Ales Michl and Vojtech Benda seeking a 25 basis-point increase for the second straight meeting.
"The main reasons for increasing rates, namely the exhausted labor market and evolution of the koruna's exchange rate, still applied, so developments abroad were no reason for putting off a rate increase," the minutes said, citing an argument for higher borrowing costs.