Czech Dove Warns Excessive Interest-Rate Hikes May Hurt Economy
(Bloomberg) -- Czech policy makers should proceed cautiously with further interest-rate increases to avoid hurting the economy, central bank board member Oldrich Dedek said.
After a record rate-hike spree last year, the scope for further increases could be limited by souring data in major trading partners and persistent low borrowing costs in neighboring countries, Dedek said. The export-oriented economy is also facing global risks like trade wars and Brexit, according to Dedek. He was the only policy maker to vote against the last increase in November that brought the benchmark to the current 1.75 percent.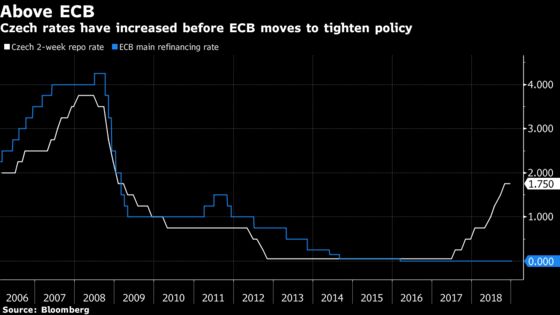 "I agree that there is monetary-policy normalization ahead of us, but I personally also see that this normalization is happening in abnormal conditions," Dedek said in an interview in Bratislava, Slovakia. "The question is whether there are some costs if we go too fast with this normalization. I see the cost being that our economy may be at a competitive disadvantage against others who still have low interest rates."
The central bank lifted borrowing costs five times last year, including an unprecedented four hikes in a row, to tame inflation risks stemming from rapid wage growth and a weaker-than-expected koruna. Policy makers have outlined more tightening in 2019, but they have acknowledged that monetary decisions will become more difficult this year mainly due to risks abroad.
While record-low unemployment is fueling household spending and boosting pressures on consumer prices, the headline inflation rate was right at the central bank's 2 percent target in the past two months due to cheaper food and fuels. Dedek also said the bank shouldn't automatically hike rates to compensate for the weaker-than-expected currency.
"We are on target, so why should I feel the urge to significantly tighten monetary policy?" Dedek said. "If we see inflationary pressures from the labor market or a continued overheating of the mortgage market threatening the target, I'm ready to act. But as long as I don't see these risks, I'm rather in favor of a more gradual approach."