Cyclical Stocks Sending Buy Signal for Bonds, Citigroup Says
(Bloomberg) -- The recent sell-off in the stock market is signaling it's time to buy bonds, according to Citigroup Inc.
An underperformance by U.S. cyclical stocks -- those that benefit most when the economy is running hot -- and "plummeting" earnings revision estimates suggest that the peak for the cycle is drawing to a close, strategists Jabaz Mathai and Jason Williams wrote in a note to clients Friday. The upshot for investors: "buy bonds on dips."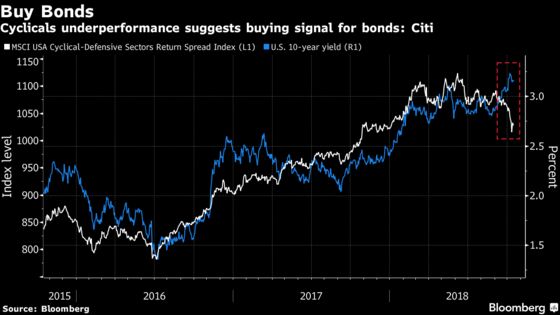 Cyclical stocks have done less well than defensive shares -- which are seen holding up better during economic slowdowns -- since the summer. Over the same period, robust U.S. data contributed to a slide in Treasuries. That divergence is unlikely to last, in the Citigroup team's view.
The MSCI USA Cyclical Sectors-Defensive Sectors Return Spread Index has fallen for six consecutive weeks, according to data compiled by Bloomberg. The gauge has now returned 0.6 percent this year, compared with 2.9 percent for the S&P 500 Index.
The strategists also see some risk that the Federal Reserve abandons an anticipated December interest-rate hike, thanks to a continued sell-off in stocks -- a move that would in turn help the bond market. Fed policy makers may want to avoid the political backlash and drop in consumer confidence that would follow a rate hike in the wake of an equity-market slump, according to the analysis.
"The massively consensus narrative at this point is that this is a temporary correction in stocks that will reverse nicely as it did in February," the Citigroup strategists wrote. Yet if trade tensions persist, the likelihood is that "the insular U.S. growth theme will come to an end," they wrote.