The 1% That Matters for Cyber Monday Success
(Bloomberg Opinion) -- Cyber Monday will likely be the biggest day for U.S. online shopping to date, with customers expected to plunk down $7.8 billion today at e-commerce websites.
It's a vast amount of money, which is to be expected as the online shopping event has become a seasonal mainstay. But what you may not know is that all those sales dollars will probably be spent on a surprisingly narrow array of stuff.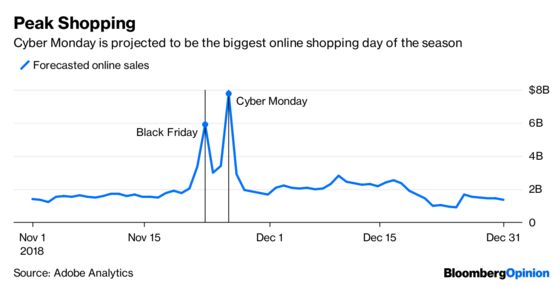 In its forecast for the 2018 holiday season overall, Adobe projects that 70 percent of online sales will be driven by just 1 percent of SKUs, or individual items. This small but popular set includes 4K TVs, retro video consoles, Fortnite Monopoly and Hatchimal Hatchibabies toys. Sales are estimated to be even more concentrated than they are during the rest of the year, when Adobe has found 1 percent of items account for 54 percent of sales.
That means the digital shopping showdown won't necessarily be determined by who has the biggest selection, but who has the right selection. Being in stock on hot products such as Fingerlings, for example, matters much more than having every toy that would once have been in a Toys "R" Us store.
This dynamic is worth keeping in mind when you compare the seasonal offers from some of the giants of general-merchandise retailing. Amazon.com Inc. has pledged to offer free shipping with no minimum, even to non-Prime members, on "hundreds of millions of items." Walmart Inc., meanwhile, is promising free two-day shipping on "millions" of items, while Target Corp. is offering free-two day shipping on "hundreds of thousands of items," with no minimum purchase for the season.
Amazon's offer sounds impressive because it covers such a sprawling selection. But I suspect it will be anything but decisive in who gets the spoils of Cyber Monday. The reality is, we're spending our money on familiar, hit products this time of year — goods like GoPro cameras and Red Dead Redemption 2.
As long as retailers have these standout items at good prices and ship them speedily, they've got plenty of opportunity to hold their own against the so-called Everything Store.
This column does not necessarily reflect the opinion of the editorial board or Bloomberg LP and its owners.
Sarah Halzack is a Bloomberg Opinion columnist covering the consumer and retail industries. She was previously a national retail reporter for the Washington Post.