CVS Health's Plunge Leaves Street Clamoring for Long-Term Clarity
(Bloomberg) -- CVS Health Corp. has a chance to spur a recovery when it reports first quarter earnings Wednesday.
Shares were hammered after a grim 2019 forecast in February, then -- amid a changing U.S. drug landscape -- pharmacy peer Walgreens Boots Alliance Inc. gave a dire outlook that compounded its woes, leaving CVS with a value 20 percent below where it had been.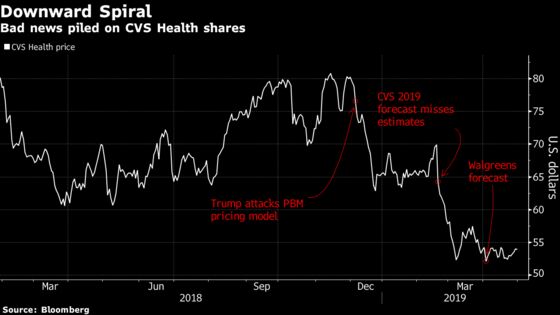 As the initial promise of the Aetna deal fades, investors are hungry for guidance on earnings in 2020 and beyond. CVS management "should use [the] upcoming earnings and analyst day to help alleviate the uncertainty weighing on shares" Morgan Stanley analyst Ricky Goldwasser wrote in a note to clients.
The wide range of analysts' estimates for CVS Health's 2020 earnings indicates a "lack of clarity," Goldwasser said. Along with long-term forecasts and potential drug pricing regulation, CVS's plans to pay down debt and rid itself of underperforming assets are also among top investor concerns, she wrote, reiterating her overweight rating on the stock.
While expectations are low for the quarter, Barclays analyst Steve Valiquette expects reimbursement pressures, like those faced by Walgreens, are already reflected in the 2019 forecast. With $47 billion of contracts up for renewal in the 2020 selling season and only $7 billion renewed, "look for an update on wins to offset known losses in CVS' net selling season results," Valiquette wrote. He rates CVS overweight.
Credit Suisse analyst A.J. Rice is also looking for 2020 clarity, noting that "with leverage historically high, we are looking for visibility on earnings growth to improve."
CVS shares closed up less than 1 percent yesterday adding up top a 2.7 percent gain over the past four trading days.
What Bloomberg Intelligence Says

"A modest upgrade to its outlook would go a long way to increasing confidence that this year's headwinds are indeed transitory and that CVS can begin delivering on the promised value creation of the Aetna deal in 2020."
--Jonathan Palmer, senior industry analyst
Click here to view the research
1Q adjusted EPS estimate $1.51 (range $1.48 to $1.63) (Bloomberg data)
1Q net revenue estimate $60.2b (range $58.7b to $61.4b) (BD)
2Q adjusted EPS estimate $1.68 (range $1.58 to $1.89) (BD)
2019 adjusted EPS estimate $6.78 (range $6.71 to $6.88) (BD)
2020 adjusted EPS estimate $7.29 (range $6.75-$8.25)
CVS also expects to end year with:

Medical membership 22.7m-23.0m
Medical benefits ratio of 83.5%-84.5%
Core commercial medical cost trend of 5.5%-6.5%
19 buys, 10 holds, 0 sells
Avg PT $71.20 (31% upside from current price)
Implied 1-day share move following earnings: 5.5%
Shares fell after 7 of prior 12 earnings announcements
Adjusted EPS beat estimates in 12 of past 12 quarters
Earnings release expected May 1 before market open