Curve Flattening Returns With Gusto as Fed Pledges More Hikes
(Bloomberg) -- Treasuries traders had little alternative but to return to business as usual after the Federal Reserve's latest rate hike. For most bond-market participants, that meant flattening the yield curve.
Traders looking for an extension of the modest curve steepening that led up to Wednesday's Fed meeting had only a brief moment in the sun. Shorter-maturity yields dipped on the Fed's statement, which dropped a reference to policy as "accommodative" -- interpreted by some as a signal that the Fed was nearing the end of its tightening campaign.
But as Fed Chairman Jerome Powell downplayed even that shift, the move reversed, leaving the gap between short- and long-dated yields narrower on the day. For John Herrmann, a rates strategist at MUFG Securities Americas Inc. the decision paves the way for the curve to flatten through the second quarter of 2020 because of the risk the Fed will hike four or five more times by the first quarter of that year.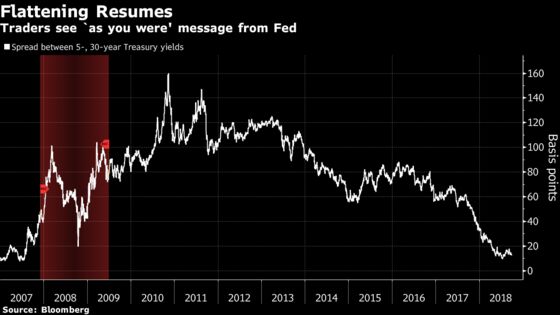 As far as John Briggs at NatWest is concerned, neither the Fed's statement nor the market's reaction change his view that the curve should steepen.
"With Treasury yields at the top end of their range, some money's coming into the market that might have been concerned about a more hawkish reaction," said Briggs, head of strategy for the Americas.
Contrarian Representative
NatWest is among the contrarian camp expecting a steeper curve, though its view is focused primarily on the five- to 30-year spread. Briggs grounds his reasoning in supply and demand pressures. He points to the Treasury's elevated borrowing needs as the deficit expands and a potential shortage of buyers, particularly as pension-related buying may have been frontloaded this year.
"When you look at the two-, the five-, or even the 10-year note, if you increase supply by a billion, I have a lot of potential buyers," Briggs said, citing banks, money managers and reserve managers. For a 30-year bond, the investor base is "pretty narrow –- foreign investors don't go out there -- so every billion that you put out there it's a little harder, arguably, to find demand."
Though the Treasury's borrowing needs are already setting records, concerns about the market's ability to absorb this supply have yet to translate into higher yields. It's unclear what may change that dynamic, but in the meantime, investors seem to be heeding an "as you were" message from the central bank, and placing more flattening bets.