Current Bout of Rand Volatility May Blow Over, Options Suggest
(Bloomberg) -- It's been quite a week for South Africa's rand, but the worst may be over, if options pricing is anything to go by.
A deluge of headlines -- from the Federal Reserve's upbeat assessment of the U.S. economy to the African National Congress' land seizure plans and Zimbabwe's disputed elections -- caused the rand to weaken 2.5 percent since Monday, and sent expectations for volatility in the next week to the highest level in a month.
But longer-term implied volatility moderated, suggesting that traders see the week's upheavals as temporary.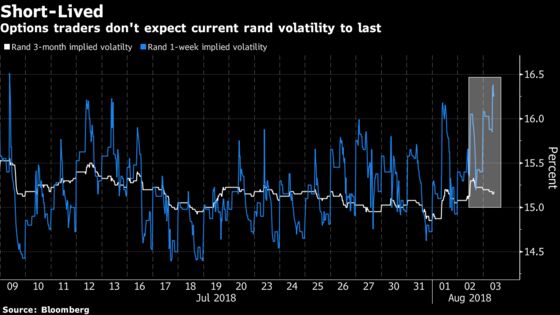 While one-week implied volatility climbed 100 basis points on Friday to 16.4 percent, three-month volatility dropped five basis points to 15.18 percent.
Graham Tucker, a portfolio manager at Old Mutual Investment Group, says the next couple of months could see calmer conditions due to limited dollar strength.
"In the short term there remains plenty of uncertainty in market, as reflected in numerous sentiment and positioning indicators," he said.