Currency Weakness Is Back in Play: Indonesia Decision Guide
(Bloomberg) -- Follow Bloomberg on LINE messenger for all the business news and analysis you need.
Indonesia's central bank is set to leave its benchmark rate unchanged on Thursday as renewed U.S.-China trade tensions roil financial markets and the government struggles to rein in the current-account deficit.
While central banks in the Philippines, Malaysia and India have all cut rates recently to bolster their economies amid weakening global demand, Indonesia is taking a more cautious approach given the vulnerability of its currency to market swings.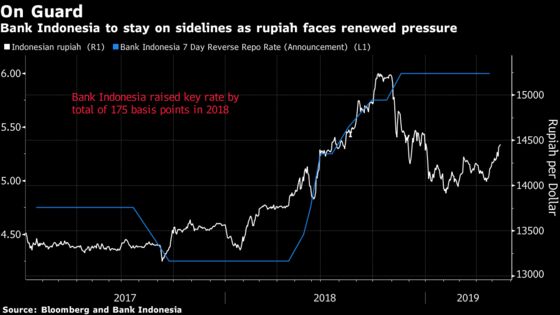 All but one of the 30 economists surveyed by Bloomberg predict Governor Perry Warjiyo and his board will keep the seven-day reverse repurchase rate unchanged at 6%. Policy makers in Southeast Asia's biggest economy have been on hold following six rate hikes last year to counter the currency's slump.
"Global uncertainty is still high and the trade war is still a big factor that affects the currency," said Dian Ayu Yustina, an economist at PT Bank Danamon in Jakarta. Indonesia's current account deficit remains a concern for policy makers and "the coast is not yet clear for a rate cut," she said.
Here's what to watch for in the statement:
While policy makers have sounded more upbeat on the deficit, recent data shows it's still elevated at 2.6% of gross domestic product -- above the central bank's projection of a 2.5% average for the year. The shortfall was one of the key reasons why Indonesia was hit so hard during last year's emerging market rout.
The government has warned that potential spillovers from the trade war will continue to pressure the deficit. Exports plunged 13% in April from a year ago, resulting in the biggest monthly trade deficit since at least 2008, a report on Wednesday showed.
Weaker global demand and an escalation in trade tensions between the world's two biggest economies remain key challenges for the bank and its efforts to boost growth. Bank Indonesia sees the economy growing 5% to 5.4% this year.
The rupiah is under pressure again as global risks mount. After rebounding from last year's emerging-market rout, the currency has dropped 2.7% against the dollar in the past month.
Bank Indonesia has made it clear it will continue to intervene to maintain stability in the currency.
What Bloomberg's Economists Say

"The escalation of U.S.-China trade tensions makes the rupiah more vulnerable to out-sized and sustained selling pressure. As such, we'd expect the central bank to signal a willingness to raise rates further, if necessary."
-- Tamara Henderson, Asean economist
Inflation quickened in April to 2.8%, but remains well within the central bank's target band of 2.5% to 4.5%. There is a risk of a pick-up in price pressures as Indonesians stock up on food for evening feasts during the Muslim fasting month. Food prices climbed 2.3% in April, the fastest pace since December.