Cuomo Scolded by Democrats as 'Distraction' to N.Y. Governance
(Bloomberg) -- Two of Governor Andrew Cuomo's biggest Democratic critics said sexual-harassment and nursing-home scandals have weakened his political hand and impacted the way the state is run.
Ron Kim, a progressive Queens assemblyman in his fifth term, said the distractions have already interfered with passing a budget that is due in weeks. Separately, New York Mayor Bill de Blasio said Cuomo's impaired power may strengthen local leaders' abilities to push through policies the Democratic governor has thwarted in the past.
"He is a distraction every day," Kim said Wednesday during an interview on Bloomberg Quicktake. "He has a track record of abusing his power and I know he will do so with the budget, that's what makes him a dangerous person in this hour."
Kim said the governor's office wields "tremendous power" over the budget, as Cuomo and lawmakers wrangle over a $193.3 billion spending plan for fiscal 2022 and plans to revive an economy slammed by the pandemic. The state constitution gives the governor final say over the budget; lawmakers can remove or reduce spending items with the governor's approval.
Cuomo spokesman Rich Azzopardi said Kim's attacks were politically motivated and refuted Kim's assertion that the scandals were distracting the governor from getting work done.
"There's a job to do and New Yorkers elected this governor to do it," Azzopardi said in an emailed statement. "He is laser focused on vaccine distribution, reopening New York's economy and passing our 11th timely, balanced budget in a row."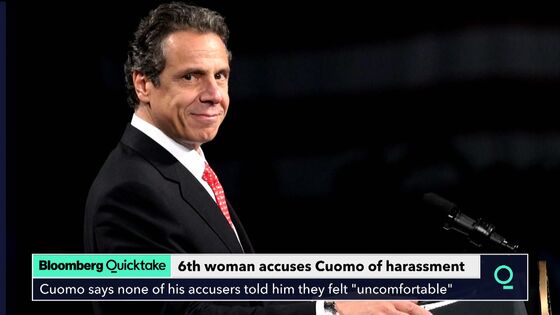 Kim said he doesn't believe Cuomo will act in good faith. "That's why we have a duty to remove him."
Kim, who recently accused Cuomo of threatening to "destroy" him over his early criticism of the third-term governor's handling of nursing homes, joins a growing number of lawmakers in New York who have called on Cuomo to resign.
Six women have accused Cuomo of inappropriate behavior. The governor, 63, has denied the allegations He has said there was "no way" he would resign, instead urging lawmakers and the public to wait for the results of investigations underway.
"There are six credible allegations and he should be held responsible for his actions," Kim said. "Whether he is removed from office is not relevant to the investigation. I trust they will conduct a thorough investigation either way."
De Blasio, another political adversary of Cuomo's, said the scandals may be one reason why he's starting to see the governor take steps to hand back local control to cities, a year after the governor was afforded with special powers during the early days of the pandemic.

"If it takes multiple scandals to get him to finally hear the people at the grassroots and respect local leaders, well that's a sad commentary, but what's important is we're finally getting some of the changes we need,"de Blasio said in a Wednesday briefing. "We have to resume normal governance."
The mayor, who has been pressing the governor to allow more local control on policies for vaccine eligibility, hailed new state rules announced yesterday that will permit people 60 and older and more categories of workers to apply for vaccine appointments.
"These are the kinds of things the governor should have done a long time ago," de Blasio said.