Cuomo Says N.Y. Ready to Ease Rules After Holiday Spike Ends
(Bloomberg) -- New York is in a better place after the post-holiday spike in Covid-19 and can begin to loosen restrictions and increase economic activity, Governor Andrew Cuomo said.
Elective surgeries can resume in Erie County, Cuomo said, and more adjustments will be made over the next couple of days.
"But, don't get cocky with Covid," he said Monday at a virus press briefing in Buffalo.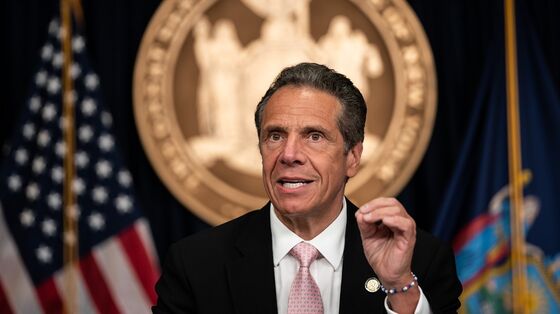 The hospitalization rate is slowing in the state, and coronavirus cases are starting to decline, Cuomo said.
Of 219,538 tests conducted statewide on Sunday, 12,003 or 5.47% were positive. Long Island and the Finger Lakes are a concern, with the highest positivity rates in the state, Cuomo said.
So far, 1.5 million New Yorkers have been vaccinated, Cuomo said. New York state has administered 91% of the shots received during the first six weeks of vaccinations, according to the governor.
Cuomo, a Democrat, said he is confident the Biden administration will solve the supply issues.
"The Biden Administration, I believe gets it and I believe they take public health seriously and just in the last few days they've taken actions that I think were long overdue," he said.
There will be a call with the governors and White House staff on Tuesday to discuss the vaccine rollout, Cuomo said. The administration will be ensuring that states know ahead of time how many vaccines they'll get each week, so states can plan ahead, he said.