Cuomo Says $1.5 Billion Javits Center Expansion Is Complete
(Bloomberg) -- New York Governor Andrew Cuomo on Tuesday announced the completion of a $1.5 billion expansion of the Jacob K. Javits Convention Center, increasing the space by 50% and adding a rooftop park.
Officials first proposed expanding New York City's largest convention center back in 2003, when George Pataki was governor. More recently, Javits has been used as a Covid field hospital, a Covid testing center, and a place to dole out vaccines. The expansion's completion comes as the city tries to lure tourists back to the city after the pandemic shuttered many attractions, destroyed the convention business, and led to an increase in crime throughout the city.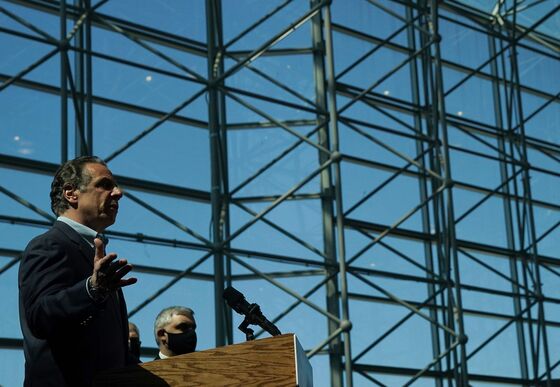 The 1.2 million square foot expansion represents a 50% increase in the convention building, Cuomo said. The center is now 3.3 million square feet in size and will be allowed to host events starting May 19 at 30% capacity. It has shows lined up for August, including the New York International Auto Show.
"We want to have the biggest and the best. Why? Because we're New York. And we should have the biggest and the best," he said. "We worked to continue the project through Covid, because we knew we would need it post-Covid."
In March, Cuomo said the state was seeking proposals to develop one of the last remaining lots on the west side of midtown Manhattan, which has seen an explosion of development in recent years with the opening of Hudson Yards and the extension of the 7 subway line, among other projects. Farther east, the state is moving forward with plans to transform the area around Pennsylvania Station in partnership with landlord Vornado Realty Trust.