Cummings Calls U.K. Health Officials' Covid Response 'Disaster'
(Bloomberg) -- Dominic Cummings, who was Boris Johnson's senior adviser until last November, said the U.K. health department's initial response to Covid-19 was an "absolute total disaster" because of procurement failings.
Cummings, who was ousted from Johnson's office in a power struggle, told Parliament on Wednesday that Britain's vaccination program had to be stripped out of the Department of Health and Social Care as a result of issues with obtaining personal protective equipment for frontline health workers.
The department, run by Health Secretary Matt Hancock, was a "smoking ruin in terms of procurement and PPE" in the first quarter of 2020, Cummings said. The job of obtaining vaccines was instead handed to the vaccines task force, which reported directly to Johnson.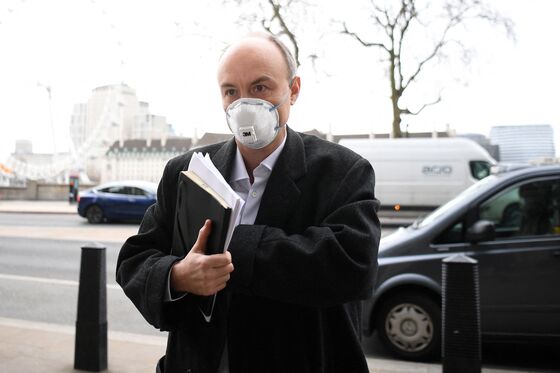 "Obviously, last year we saw that the Department for Health had an absolute total disaster in terms of buying -- how it buys, how it procures, how it deals with science and technology," he said.
Hancock has come under fire for his rapid PPE procurement strategy, which resulted in inadequate and faulty equipment for health workers.
Cummings masterminded the campaign for Britain to leave the European Union and said Wednesday that he entered office to help Johnson deliver the "huge Brexit nightmare." The U.K. rejected the opportunity to join the EU's vaccine-procurement program because it was "an absolutely guaranteed programmed-to-fail debacle," he said.
A maverick who demanded total loyalty, Cummings never fully recovered his authority after the controversy over his 250-mile (400-kilometer) trip from London to the northeast city of Durham during lockdown when government rules required people to "stay at home" to "save lives." He then infamously drove another 25 miles to the town of Barnard Castle to test his eyesight -- an excuse that provoked dismay from the public, media and politicians.