Crypto Coders Shun 'Hodl' in Favor of 'Buidl' at Prague Event
(Bloomberg) -- There was a reckoning at so-called Ethereum Christmas, the biggest conference for the community behind the second-largest cryptocurrency.
As the digital assets bubble that fueled endless internet memes and talk about "hodl" (holding crypto investments) deflates, the Ethereum crowd is trying to bring sanity back the project -- all while keeping their trademark rainbows and unicorns.
While investors flocked to last year's Devcon, the Ethereum gathering held annually since 2014, this year they were harder to spot at the event in Prague. Ether hovering around $200 instead of shooting for $1,000 may be part of the reason, but it was also the Ethereum Foundation's intention, said Aya Miyaguchi, the foundation's executive director. Developers got discounted tickets and grants, and the Devcon 4 website stated, "this is a conference for builders."
"Last year you could see suits and Wall Street guys everywhere,'' said Sebastian Burgel, co-founder at blockchain education company Validity Labs AG. "This year, it's mostly developers again."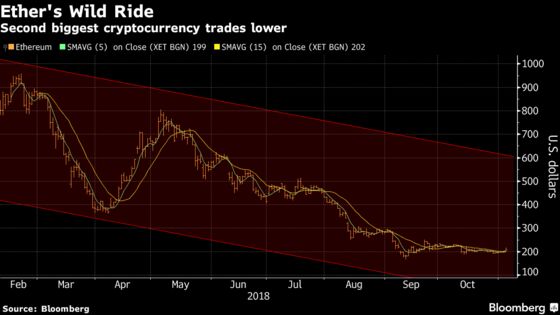 Focus on developers didn't mean fewer people. Attendees doubled from last year to about 3,000, Miyaguchi said in an interview.
Talks and memorabilia throughout the four-day gathering last week criticized the excesses during the initial coin offering boom and stressed the need for Ethereum and applications running on top of it to be stronger.
There were stickers of an astronaut apparently waiting for Ether to get "to the moon" (another popular meme), and big, block letters that read, "No, you're a buidler," over his head. The word is misspelled on purpose, of course, to a play off of "hodl."
There was a makeshift shrine, with fake candles, pictures of Ethereum cofounder Vitalik Buterin, toy Lamborghinis, and a place to kneel in front of a computer, which read "enter your confession my child. How are you avaricious?"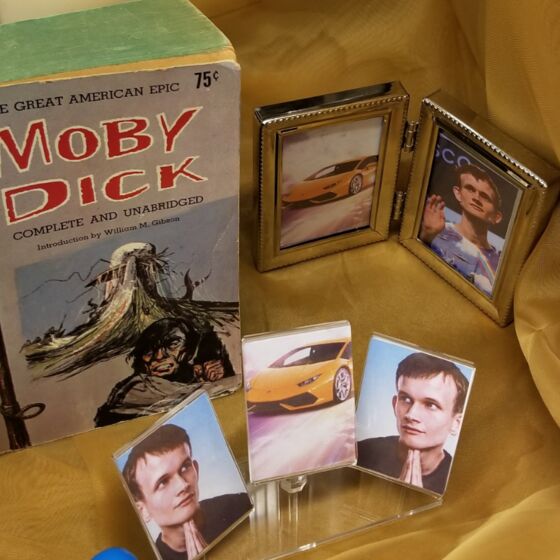 One of the event's presenters took out a guitar and started singing "B-U-I-D-L (...) radical markets are coming to you, don't ICO when there's work to do." Lyrics were projected on a screen and the rest of the conference room sang along.
Fabian Vogelsteller, who formalized the ERC-20 standard used in most ICOs, said he felt the responsibility to "create something better,'' and proposed a system that would allow investors to take their money back if they're not happy with the project. In theory, this would incentivize startups to deliver.
For all the soul searching about the past year's bubble, Ether's price increase from under $10 before 2017 has been a windfall for the Ethereum Foundation. This greater "financial stability" allowed it to formalize a grants program and give out $20 million to more than 70 projects so far this year, Miyaguchi said.
Blockchain projects have raised about $20 billion through ICOs, according to CoinDesk, most of which used the Ethereum network. Many of the projects were scams, and the great majority of those that weren't still don't have a live product.
Ethereum's inability to process a large number of transactions is partly to blame for the lack of adoption. The platform's researchers and developers are working on different solutions to help Ethereum scale. Buterin said in a talk that the "Serenity" version of Ethereum, which will potentially increase the network's capacity 1,000 times, "is no longer so far away," without providing more details on timing.
Buterin's talk ended with a picture of a cat, highlighting that the Ethereum crowd's way of getting serious is by using more memes, singing songs and snubbing suits.