Crown Resorts' Future in Balance as It Faces Verdict on Conduct
(Bloomberg) -- Crown Resorts Ltd.'s spectacular fall from a global gambling empire to a reduced chain of domestic casinos stands as one of Australia's biggest corporate implosions. The humiliation may soon plumb new lows.
A public inquiry led by former judge Ray Finkelstein will Friday deliver its final assessment of Crown's suitability to run its flagship Melbourne casino. The report follows eight weeks of public hearings that unearthed unpaid taxes by Crown and allegations it "failed woefully" to address money-laundering risks and cooperate fully with the Victorian state gaming regulator.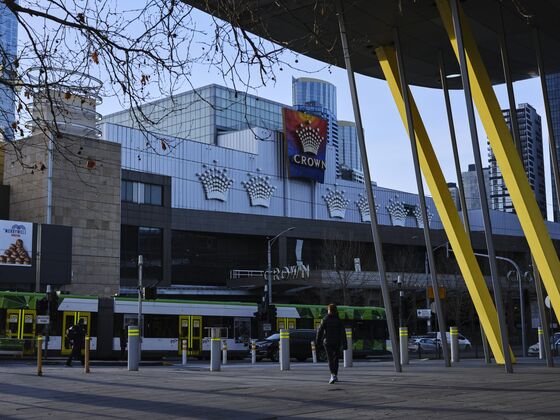 A verdict that Crown is unfit to hold a casino license in its home city would disable the company's profit engine, and leave it little leverage to fight off suitors including Blackstone Group Inc. and Star Entertainment Group Ltd. that have circled in recent months. It would also mirror proceedings in Sydney, where the regulator in February found Crown unsuitable to run its brand-new casino, which has now been shuttered for almost a year.
A similar finding in Melbourne is a "definite possibility," said Thomas Clarke, a professor of corporate governance at UTS Business School in Sydney. The next step could be the sale of Crown itself, Clarke said. "The future for Crown is profoundly uncertain." 
There's also scope for Finkelstein to find Crown unfit to run the Melbourne casino, yet lay out the ways the company could address its shortcomings and be reinstated in the future. Either way, the potential prize for any new owner of Crown could be casino monopolies in two Australian cities -- Melbourne and Perth -- and a gleaming gaming resort on Sydney's waterfront.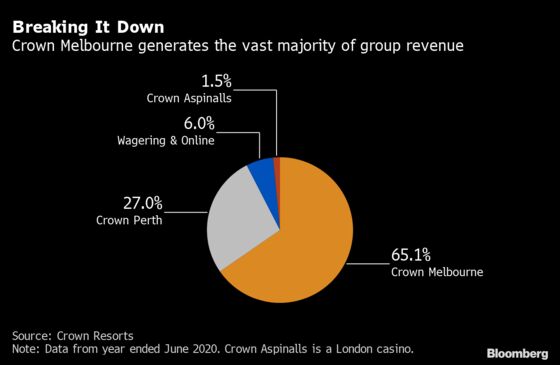 This precarious position is an improbable turnaround from just five years ago, when Crown and billionaire shareholder James Packer boasted a network of casino, entertainment and property assets stretching from Australia to Macau and Las Vegas.
Crown's gambling operations began to unravel with a crackdown by authorities in mainland China in late 2016, leading to the arrest and conviction of more than a dozen employees. By the end of that year, Crown had scrapped a spinoff of its international assets, including a stake in Macau casino operator Melco Resorts & Entertainment Ltd., and started a retreat to Australia.
During the public hearings, Finkelstein lambasted Crown's record of poor behavior. 
"Wherever I look, I see not just bad conduct but illegal conduct, improper conduct, unacceptable conduct, and it permeates the whole organization," he said at one stage.
The inquiry revealed Crown had underpaid casino taxes by treating certain jackpot promotion costs as tax deductible -- even though they weren't -- and didn't tell the regulator. Crown also between 2012 and 2016 illegally let guests at its hotel in Melbourne use their credit cards to access funds on the casino floor.
The probe also heard the Australian Federal Police had warned Crown suspected junket operators were laundering drug money through the casino.  
In his closing submission, Adrian Finanzio, counsel assisting the inquiry, said "Crown Melbourne is not presently suitable to hold a casino license." It's open for the inquiry to recommend Crown's license in the city be canceled, he said. 
In a statement Thursday, Victoria's minister for gaming said the final report and the government's response will be released before the end of the month. 
"We'll consider the findings and recommendations in detail and take whatever action is necessary to strengthen casino oversight in Victoria and ensure this never happens again," the minister, Melissa Horne, said in the statement. 
A seperate investigation into Crown's Perth casino in Western Australia will report in March.
The regulator's report in Sydney earlier this year, which criticized Packer's malign influence on Crown, has accelerated the billionaire's retreat from corporate life. He is now a diminished force in Australia, where his late father Kerry once wielded his media empire to bend governments to his will. 
Most of Crown's then-directors, including Chair Helen Coonan, have also left the board, along with former Chief Executive Officer Ken Barton and the head of the Melbourne casino, Xavier Walsh.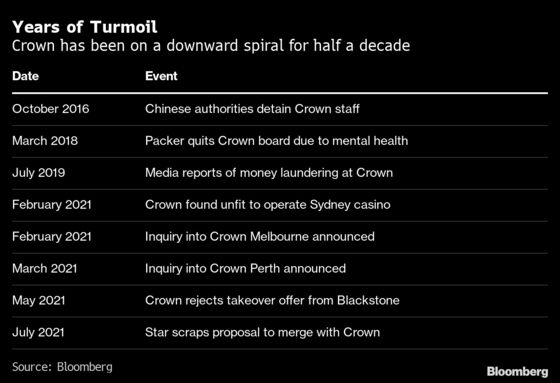 Not everyone sees the worst outcome for Crown as inevitable. Morningstar Inc. said in a report this month it expects Crown will continue to operate in Melbourne and Perth, and ultimately prove it's fit to run its Sydney casino.
Moody's Investors Service Pty analyst Maadhi Barber said in a statement that Crown is "willing and able to resolve the shortcomings identified." But Barber said the remediation required for Crown to keep its gaming licenses in Sydney, Melbourne and Perth is "far-reaching and complex."
Even Crown publicly questions its right to carry on in Melbourne. In a final pitch to save the flagship property, the company's lawyer Michael Borsky in August apologized for the failings exposed by the inquiry. Borsky said Crown is prepared to be supervised by an independent monitor during its reform program.