U.S. Crops Pare Gains as Doubts Persist on Chinese Purchases
Doubts over how much agricultural goods China will buy as part of a preliminary trade pact with the U.S. dampened crop market optimism about the deal.
Prices for soybeans and hogs initially surged as Beijing held a Friday night press conference to announce a phase-one agreement that averts a new wave of tariffs on Dec. 15. Markets retreated from highs when officials failed to specify volume targets for purchases, but ultimately recovered some of those losses prior to the close.
"Beans were all over the place today," said Charlie Sernatinger, global head of grain futures at ED&F Man Capital Markets in Chicago.
Soybeans for March delivery settled 1% higher at $9.215 a bushel, after earlier rising as much as 2.1%. March corn futures climbed 0.9% and wheat 0.4%. February lean hog futures surged as much as 4%, before closing up 1.2% at 69.5 cents a pound.
U.S. Trade Representative Robert Lighthizer said the U.S. has a two-year commitment to buy $40 billion to $50 billion annually on agriculture purchases from China.
Without specifying volume targets, Chinese officials mentioned agriculture goods including soybeans, pork and poultry and said wheat, corn and rice purchases would take place within quotas. Imports won't hurt the Chinese farm industry, they said.
"The big takeaway from me is that China refused multiple times to give a value of U.S. ags they would buy as a part of this agreement," Niko Anderson, a grain broker at SCB Group in Chicago, said.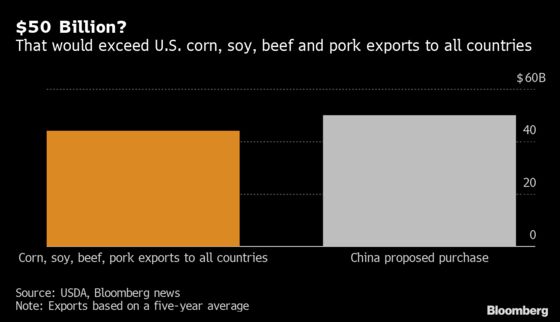 U.S. traders were pining on a potential rise in soy shipments to China, before top producer Brazil harvests what's forecast to be a record haul of the oilseed early in 2020. China stressed it has increased purchases based on market conditions and following WTO rules, adding it will be importing agriculture products from the U.S. and other countries.
"The other countries part is what worries me," said P.J. Quaid, a corn options broker on the Chicago pit. "South America will be able to take care of their bean needs soon. Lots of optimism this morning and that has all disappeared."
Agriculture markets have been whipsawed this year as officials worked to hash out a deal. With the U.S. among the world's leading crop and meat shippers and China a major buyer, the more than yearlong trade spat between the two nations has weighed on commodity prices and upended global trade flows.
Regulatory data released Friday showed traders weren't optimistic a trade deal would boost markets, with money managers extending net-bearish bets on soybeans and hogs.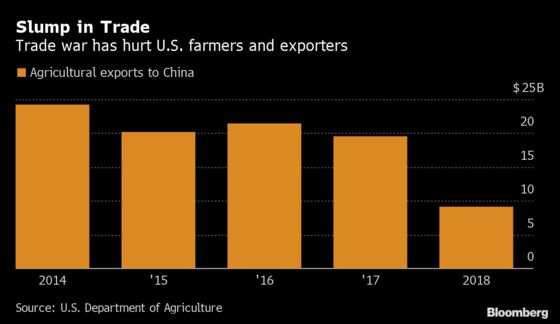 U.S. shippers sold about 900,000 tons of soybeans earlier this week after China granted waivers on as much as 2 million tons to private processors, according to people familiar with the matter. China accounts for almost a third of global soy demand and American sales to China still remain well below levels before the trade dispute.
"This agreement is positive for de-escalating the relationship between the United States and China," Arlan Suderman, chief commodities economist at INTL FCStone said. "That alone is good, as it should allow for economic growth in China, the United States and the rest of the world. It does not resolve the larger issues between two super powers that are destined to clash once again."