Croatia to Submit Letter of Intent for ECB Waiting Room by July
(Bloomberg) -- Croatia will send a letter of intent to join the euro area's waiting room, known as ERM-2, by July, according to central bank Governor Boris Vujcic.
That move would then allow to the country to join the pre-euro exchange mechanism in 2020, Vujcic said at a panel discussion in Zagreb.
"With our public debt levels on a strong downward path, we hope for a positive report from the European Commission on our efforts to resolve macroeconomic imbalances," Vujcic told reporters after the event. "Then, after consultations with our partners, we will decide on the date of the letter, but it will probably be sent in the second quarter."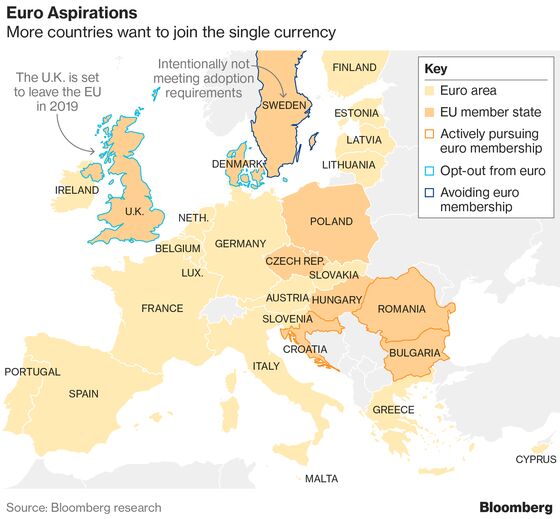 Euro candidate countries usually stay in the mechanism that limits exchange-rate moves vis-a-vis the euro for two years and, if meeting convergence criteria, adopt the euro at the end of that period. Bulgaria and Romania have also also trying to join the euro area, which currently consists of 19 countries.
With about 80 percent of deposits in euros, Croatia is the most euroized of all European Union members that have not joined the euro zone. Its currency, the kuna, is already synced to the euro, so Croatia doesn't stand much to lose in terms of monetary sovereignty, according to Vujcic.
| Country | Hopes to join ERM-2 by |
| --- | --- |
| Bulgaria | 2019 |
| Croatia | 2020 |
| Romania | 2024 |