Creditors Cheer Debt Plan That's Fueling Worst Meat-Stock Rout
(Bloomberg) -- Minerva SA's having a hard time winning over equity investors for its latest plan to contain debt. Bondholders are a different story.
Since unveiling plans last week to raise as much as 2.5 billion reais ($612 million) through a capital increase and an initial public offering of a unit in Chile, Minerva shares have lost 18 percent, the most among global meat producers tracked by Bloomberg. A 56 percent slump this year makes it the worst bet among both global peers and major Brazilian companies. The stock closed Thursday at its lowest level since October 2011.
But with S&P Global Ratings deeming the plan credit positive, the debt-market reaction was markedly different. The company's notes due 2026 are up 4 percent, bringing the yield down below 8 percent for the first time in almost a month. That's among the best performances by Brazilian corporate bonds in that span.
For equity investors, the plan had an air of deja vu as the Brazilian meatpacker has pledged for years to cut debt and raise dividends. There are also doubts that Minerva will be able to convince minority holders to subscribe to new shares at a 30 percent premium over current prices and pull off the Chile IPO at a time of heightened emerging-market uncertainties.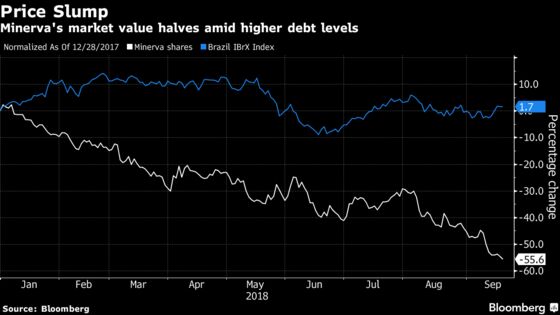 Minerva -- which also has operations in Colombia, Argentina, Paraguay and Uruguay -- has seen its leverage metrics deteriorate amid tighter credit conditions and a slump in the Brazilian real that has inflated the size of its external debt. Buying $300 million in assets from larger rival JBS SA last year didn't help either.
Chief Financial Officer Edison Ticle said last week that the focus has now shifted to improving capital structure as the industry matures. The company didn't immediately respond to requests for comment on market reaction.