Credit Suisse Chairman Horta-Osorio Broke Quarantine Rules
(Bloomberg) -- Credit Suisse Group AG said it "regretfully acknowledged" that Chairman Antonio Horta-Osorio breached quarantine rules recently when he left Switzerland before his period of isolation was over.
Horta-Osorio apologized for leaving "prematurely" on Dec. 1, when he  "unintentionally violated" Swiss quarantine rules following his entry on Nov. 28. He said that during his period of isolation he had strictly followed the quarantine protocol and apologized for his mistake. Swiss regulator Finma is aware of the breach and is in contact with the bank, it said in an emailed statement, without giving more details.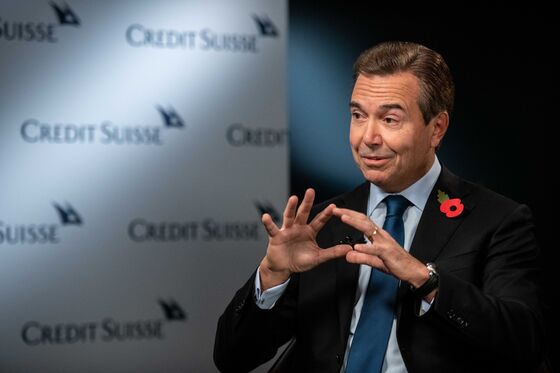 Swiss newspaper Blick reported on Wednesday that the Credit Suisse chairman returned to Switzerland from the U.K. on Nov. 28, requiring a 10-day period of quarantine. He received feedback both from the local canton and the federal government that there would be no special exemptions and that he should remain in isolation for the full period.
Blick reported that even after the order, Horta-Osorio left for the Iberian peninsula on Dec. 1 aboard a private jet. The newspaper cited people familiar with the matter which it didn't identify. His travel was for business purposes, a person familiar with the travel plans said, asking not to be identified as the matter is private.  
Under Swiss Covid-19 measures anyone who deliberately evades quarantine commits an offense under the Swiss Epidemics Act and could face a possible prison sentence or fine of up to 10,000 francs. If an individual breached the rules by negligence, they face a fine of as much as 5,000 francs. 
Horta-Osorio made a self-declaration to the Swiss authorities about his possible violation, according to a letter sent by email from his lawyer Peter Nobel of the Swiss law firm Nobel & Hug.
Credit Suisse fell as much as 1.6% and traded around 8.98 francs as of 11:32 a.m in Zurich. 
The Swiss lender has had one of its most tumultuous years on record, plunged into crisis after the forced wind-down of $10 billion in its supply-chain finance funds and the collapse of prime brokerage client Archegos Capital Management, which cost the bank $5.5 billion. Horta-Osorio has spent the first eight months of his tenure as chairman of the bank seeking to revamp its culture, rebuilding the management ranks, and beefing up risk management. 
"We are committed to developing a culture of personal responsibility and accountability, where employees are, at heart, risk managers," Horta-Osorio said in a statement in July when the bank published a scathing report summarizing the failures that had led to the loss incurred from the Archegos collapse. He repeated the message when the bank updated its strategy in November adding that risk management would be at the "core of our actions". 
When he joined the bank in May, Horta-Osorio said what happened at Credit Suisse went beyond what he had experienced after decades in banking.