Dallas Cowboys' Ezekiel Elliott Runs 21 Miles an Hour, But Who Owns That Data?
(Bloomberg) -- The longest rush of the NFL playoffs so far -- a 44-yard run by Dallas Cowboys running back Ezekiel Elliott -- was also the fastest. Elliott hit 21.27 miles per hour as he outran two defenders, his top speed as a ball carrier this season.
We only know that statistic because of a tiny chip inside Elliott's shoulder pads -- a small piece of the National Football League's aggressive push into advanced data and analytics. The NFL is using technology to track the game and its players like never before. For the first time, all 32 teams have access to chip data throughout the league, providing a snapshot of every player's location 12 times per second.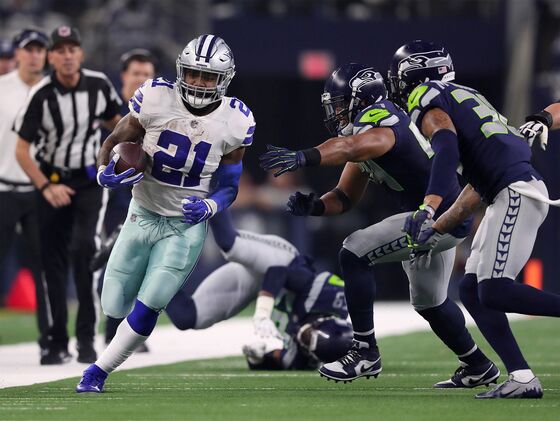 And it's not just the NFL. Every major sports league is counting on data to revolutionize how athletes train and recover -- and how coaches evaluate and prepare for games. But the analytics boom has also produced some thorny questions. Should a player's privacy factor in? Should the data be used in contract negotiations? And who should share the spoils if broadcasters and sports-gambling companies pay for the information?
To resolve these questions, research firm Sports Innovation Lab formed a 16-person advisory board with executives from the major sports leagues, unions, tech companies and gambling houses. The board will meet four times -- starting this week -- with the goal of producing standards and best practices by the end of 2019.
"We see these questions over and over again," said Angela Ruggiero, a four-time Olympic medalist for USA hockey and co-founder of Sports Innovation Lab. "Everyone is trying to solve them in their own unique, siloed way. Our plan is to accelerate that conversation."
The discussion is advancing on two tracks: One focused on privacy; the other on money. New technology is revolutionizing our understanding of the body and its limits. Wearable devices, genetic testing and bloodwork are providing new insights. They're also creating tension between athletes and their employers, with concerns over how information gleaned for health purposes may bleed into matters like contract negotiations.
Then there's the massive revenue opportunity. Some of the same data may be commercially viable for social media, video games, broadcasters and gambling companies.
Companies like casino owner MGM Resorts International are already paying tens of millions to partner with leagues like the National Basketball Association, the National Hockey League and Major League Baseball -- deals that sometimes include access to these data streams. Next year, for example, MGM customers may be able to bet on which NHL player skates the fastest during a game, or rips the hardest slap shot.
It's early times, but also a critical moment. Think of athlete data in 2019 like broadcast rights 50 years ago, said Ahmad Nassar, who runs the licensing and marketing arm of the NFL Players Association.
"Broadcast rights are a very mature market, and now everybody gets it, but 50 years ago I don't think people understood the opportunity -- it was all about gate revenue, selling out games, concessions and parking," Nassar said. "Data can follow that same path."
These conversations are happening all over the sports world with players, leagues and their unions. During the NBA's 2016 collective bargaining, the league and its union wrote explicit new rules for wearable devices. Article XXII, Section 13 outlines which wearables can be used in practices and says players can opt out at any time. It also forbids the data from being used in contract negotiations.
The NFL, which signed its last labor accord back in 2011, operates differently. Teams are allowed to use the chip data in contract negotiations, and players don't have full access to the information unless granted by individual teams. The league also has a handful of commercial partnerships tied to the data, including agreements with chipmaker Zebra Technologies Corp., data firm Sportradar AG and Amazon Web Services.
"The technology is just so mature, we're able to do things that we weren't able to do just a few years ago," said Damani Leech, the NFL's senior vice president of football strategy and business development, who is on the panel. "What we have to decide as a league, and with the players, is what technology is of sufficient quality to be used. And just because it's available, should we use it? Does it belong in our game?"
It's the first of a handful of advisory boards that the Sports Innovation Lab will launch this year. The group is taking a similar approach to smart venues, and immersive media like virtual reality, augmented reality and digital streaming, Ruggiero said.
As a defenseman with USA Hockey, Ruggiero often experimented with new technology. She was an early adopter of heart-rate monitoring during training, and altered her diet after blood analysis said foods like pepper and cherries were hindering her performance. She retired in 2011 having played more games for USA Hockey than anyone, male or female.
"Your body is your business," said Ruggiero, also a former International Olympic Committee board member. "But now it's not just about performance, it's also about fan engagement."