'Ibiza of the Alps' Victims Accuse Austria of Covid Chaos
(Bloomberg) -- Skiers infected with Covid-19 at the resort of Ischgl sued the Austrian government, alleging the authorities' response was "chaotic" and accelerated the spread of the virus at the station dubbed 'Ibiza of the Alps.'
Four cases were filed yesterday and more will follow, Alexander Klauser, a lawyer for the skiers and their families, said at a press conference in Vienna Wednesday. One of the cases involved a man who was infected in the panicked mass evacuation of the resort after a quarantine was imposed -- and later died.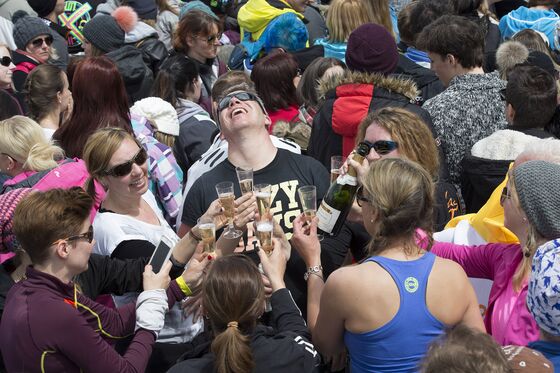 While the plaintiffs are only seeking a total of about 290,000 euros ($340,000) -- a relatively modest amount compared to U.S. civil claims -- that's not the point, said Peter Kolba, the head of the Austrian Consumer Protection Association, who spearheaded the lawsuits.
"Those who came to us didn't ask, 'how much money is there in it?'" Kolba told journalists in Vienna. "They were outraged by the fact that nobody in Tyrol ever admitted that mistakes were made."
The case is being closely watched to see whether governments might be held liable for shortcomings in their response to outbreaks around the world.
Ischgl gained its Ibiza of the Alps nickname in a nod to its apres-ski culture where partygoers descended on bars straight from the slopes for hours of dancing on crowded dance floors and games of beer pong.
Apres-ski bars were only one element that caused the virus spread, Kolba and Klauser argue. The manner in which the Ischgl quarantine was announced that caused panic and multiplied the impact.
Austrian Chancellor Sebastian Kurz made the announcement on live television at 2:15 p.m. with "immediate effect," telling people to leave the valley even though it wasn't officially locally announced until the news went up on a blackboard outside the Ischgl mayor's office at 7:30 p.m. that evening.
Tyrolean authorities reacted too slowly, apparently under pressure from the tourism industry and acted too late to shut down bars and issue a quarantine, Kolba said.
"Chancellor Kurz announced the quarantine in a press conference, apparently coordinated with no one, for his own PR purposes and has caused the chaotic departure of tens of thousands of tourists," Kolba said.
A spokesperson for Kurz's government declined to comment.
That triggered panic from tourists who feared being trapped in Ischgl, says Kolba. One bus packed with 25 people took seven and a half hours to make the trip to the train station of Landeck, a journey that normally takes 45 minutes, according to one media report.
Austrian prosecutors in Tyrol's capital Innsbruck have been reviewing already for months whether charges should be filed for criminal negligence to determine if locals looked the other way to save the most lucrative part of the ski season. Kolba suspects that they are stalling.
"What I've seen so far from them isn't an efficient probe," Kolba said. "After six months they haven't even interviewed anybody, they are only piling up paper -- it's unacceptable."
Instead of spending years with the cases going through the justice system, Kolba proposed Chancellor Kurz arrange an out-of-court "round table" that could discuss compensation payment, establish responsibility and issue a proper apology. Kurz's spokesman declined to comment on the proposal.