Covid Ravaging Long-Term Care Centers at Fastest Pace Since May
(Bloomberg) -- Covid-19 is strengthening its grip on one of the most vulnerable populations: senior citizens in long-term care.
Last week, states reported more than 29,000 new Covid-19 cases in places such as nursing homes and assisted-living facilities. Counts rose roughly 17% week over week, the steepest acceleration since May, when the Covid Tracking Project began tallying the data.
Half of all new nursing home cases stemmed from the viral epicenter in the Midwest, according to the American Health Care Association and National Center for Assisted Living. Ohio saw the largest increase last week, making up 10% of all new cases in facilities nationally.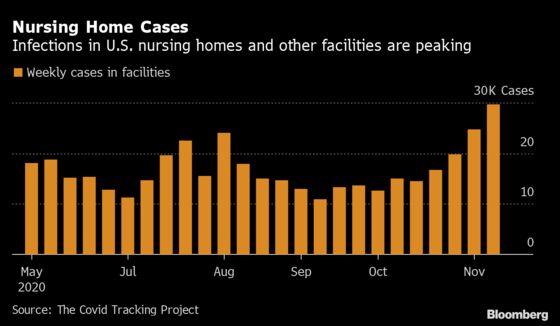 Less than 1% of the U.S. population lives in such homes, but Covid-19 fatalities inside of them account for 40% of the national death toll. Available statistics also likely fail to capture the gravity of the issue, as only 30 states report data about active outbreaks within centers. Even so, the numbers paint a stark picture of pandemic life in facilities for America's elderly, where residents often must forgo visitation or risk further spread.
Seema Verma, administrator for the Centers for Medicare & Medicaid Services, has warned of the dangers in nursing homes, where 19% of facilities have at least 10 cases. The "name of the game is to control the spread inside the nursing homes," she told governors this week, according to a summary provided by Washington Governor Jay Inslee's office.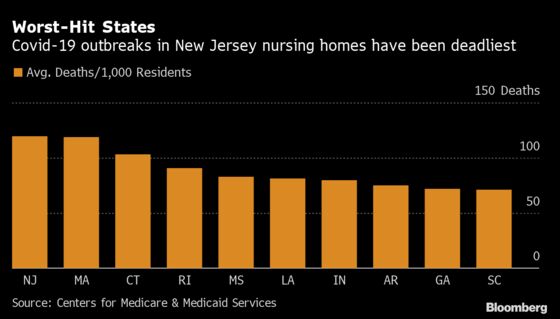 The U.S. reported an additional 155,835 cases on Tuesday according to Covid Tracking Project data. There have been more than 248,000 deaths cumulatively, according to Johns Hopkins University.
Covid Tracking Project data show:
76,823 people are hospitalized for Covid-19 in the U.S., a record.
Wyoming, Nebraska and North Dakota had the most new cases per million people.
The states with the worst momentum are Wyoming, Vermont, Minnesota, Colorado and Alaska as measured by the

percent

change in seven-day average cases from a week earlier.
Pennsylvania, Nebraska and Wyoming posted record case counts Tuesday.