Covid Hospitalizations Hit Record as Holiday Obscures Case Data
(Bloomberg) -- The number of Americans hospitalized with Covid-19 climbed to a record Sunday, a sign that the virus is still raging, even as the Thanksgiving holiday distorted case and death data.
An all-time high of 93,238 people are hospitalized with the virus in the U.S., up 9,368 from a week earlier, according to Covid Tracking Project data.
Yet the seven-day average of new cases has fallen from Wednesday's record high -- probably deceptively -- after reduced laboratory staffing led to an initial period of underreporting.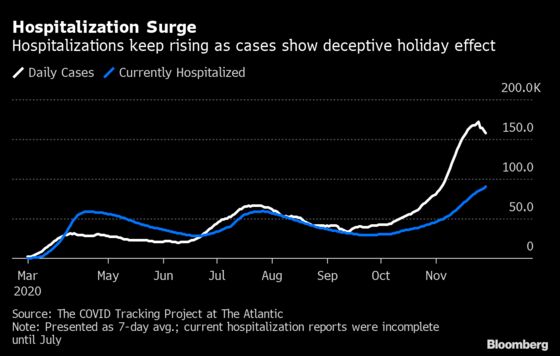 Reporting on deaths also has been muddled by the holiday effect, showing what's likely to prove a temporary reversal of the upward trend. A model based on 40 forecasts tracked by the University of Massachusetts Amherst's Reich Lab indicates that, in the next month or so, the seven-day average deaths will probably near the record pace of about 2,200 a day from the period ended April 18.
Cumulatively, the Reich Lab's Covid-19 Forecast Hub shows deaths may surpass 300,000 by mid-December. There have been nearly 267,000 coronavirus deaths reported through Sunday, according to Johns Hopkins University data.
According to Covid Tracking Project data:
Hospitalizations in the Midwest, a region of concern recently, have shown early signs of retreating from highs.
The number of current hospitalizations in New York state climbed by 184 on Friday, the biggest one-day increase since early April, according to the state. They increased by 85 on Saturday to 3,372. Hospitalizations statewide increased to 3,532 on Sunday, up 160 from the day prior.
New York Governor Andrew Cuomo said Monday he's more concerned about staffing shortages than hospital beds because the nationwide surge means the state can't expect the 30,000 out-of-state volunteers it previously attracted. "They're all busy," he said. "In the spring, it was just us."