Covid Hospital Admissions Fall for First Time Since June in U.S.
(Bloomberg) -- Hospital admissions of Covid-19 patients in the U.S. are declining for the first time since late June, a sign that the latest surge may have peaked -- at least for now.
The seven-day average of new daily admissions with confirmed Covid fell 2.4% from a week earlier to 12,280, the first such drop since June 27, according to the U.S. Department of Health and Human Services. 
The national decline is driven by falling numbers in recent hot spots -- Florida, Texas and the Deep South.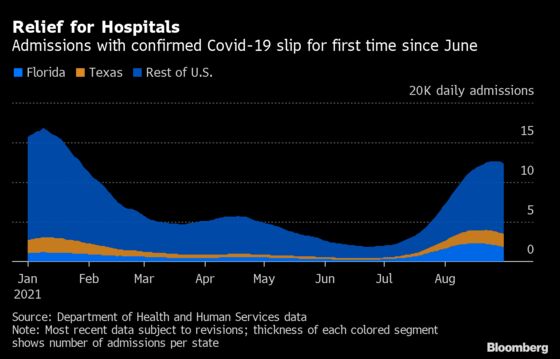 While it may be ebbing, the latest wave has upended hopes that the U.S. had begun to put the pandemic behind it. Inoculations prevented a much worse sitiation, protecting those who got them. But the more contagious delta variant found many of the millions of people still susceptible, sending deaths rising anew.
There's no guarantee improvements will last. Covid cases and hospital admissions are rising sharply in several rural parts of the country -- including West Virginia and swaths of the Great Plains -- even as the rates in cities level off.
In some ways, the decoupling of metropolitan and rural counties echoes what happened a year ago, when a September surge began in the Dakotas, eventually engulfing the Midwest and then the entire country.