Covid Creeps Up in U.S. Plains States, Where Autumn Surge Began
(Bloomberg) -- There are early signs of a rebound in Covid-19 cases in the Great Plains, the area where the most-recent nationwide surge started.
The seven-day average of new cases in North Dakota has climbed by 147% in the past week, the most in the U.S., according to Covid Tracking Project data. Nebraska's cases are up 20% in the period, and South Dakota's are up 17%.
The move is a reminder that while the overall trends have improved vastly, the overall pandemic continues and hot spots are likely to keep popping up.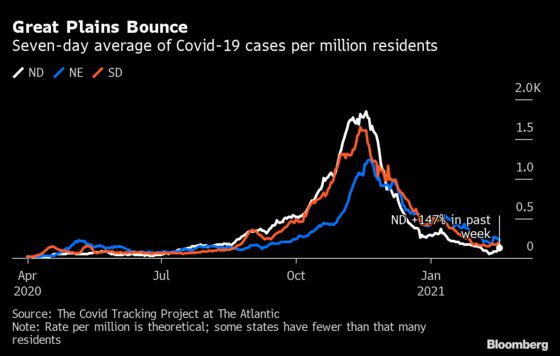 The seven-day average of new cases is dropping in 46 states, with the only exceptions being those three Midwestern states and Vermont, where cases are up 10% in the period.
The number of people currently hospitalized with Covid-19 is also rising in North Dakota, up 26% in the past week, but those numbers are still falling in South Dakota and Nebraska, Tracking Project data show.
The figures that are rising are doing so from a low starting point. Those states have posted some of the lowest numbers of cases per capita in recent weeks. Still, the trend -- which can't be explained by an increase in testing -- bears watching. The Great Plains surge that began in August later swept the Midwest and eventually hit the entire country.
The dynamic is likely different now, in part due to the prevalence of immunity acquired from vaccines and past infections, with the U.S. Centers for Disease Control and Prevention estimating that some 83.1 million Americans had the virus as of mid-January. But it's unclear precisely how long immunity lasts, and fast-spreading variants have begun to circulate around the country.
Some 12.3% of the population has had at least one of the required two doses of the vaccines currently available, according to the Bloomberg Vaccine Tracker.
Overall, the U.S. posted 70,825 new cases on Wednesday, bringing the seven-day average to 77,004, the lowest since Oct. 29, according to Johns Hopkins University data. There have been nearly 491,000 deaths reported cumulatively in the U.S., the data show.
According to Covid Tracking Project data:
South Carolina has the most cases per capita in the past week.