Covid Cases Drop Most in U.S. West, But Relief May Be Brief
(Bloomberg) -- In the span of two weeks, states in the U.S. West pushed down coronavirus case averages by 43%, outstripping the decline in other regions, which all have seen numbers retreat from peaks this month.
Almost every state in the West reported cases falling or flat Tuesday, and every region in the country has seen its seven-day average drop at least 20% since Jan. 12, according to data from the Covid Tracking Project.
Some states, like California and Oregon, had numbers drop by more than a third in the course of a week. Such improvements inspired California Governor Gavin Newsom to ease social-distancing measures earlier this week. The relaxed policies, combined with more-contagious strains gaining traction in the state, could lay the groundwork for numbers to spike again.
Compared with the rest of the world, the U.S. stands out with nearly 25 million cumulative cases, more than the next three worst performers combined, according to the U.S. Centers for Disease Control and Prevention, which has compiled data from the World Health Organization. (According to Johns Hopkins University, which runs its own tracker, the U.S. surpassed that threshold Sunday.)
Even scaled for population, the U.S. has the highest rate among large economies at 7,491 cases per 100,000.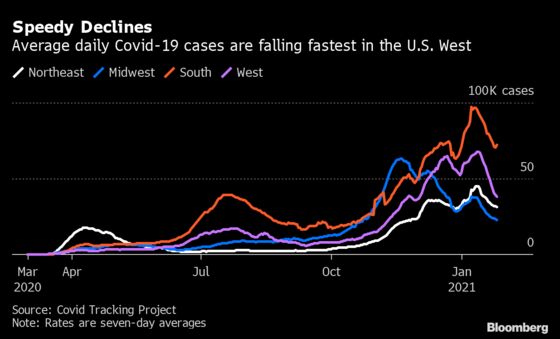 Among U.S. regions, the South, where the seven-day average ticked down 24% over the last two weeks, improved the least. The significant decrease, which has lasted longer than any since the summer, came off a high peak.
The South continues to see the highest caseload, and new infections there accounted for half the national total Tuesday. Numbers this month may also be overstated, reflecting catchup reporting after the holidays.
In the past, positive pandemic news in U.S. has been fleeting. The Northeast had the most success keeping infections relatively low from June through late September before records were set again in the fall.
The country posted 143,745 Covid-19 cases on Tuesday, Covid Tracking Project data show. At least 425,406 people have died in the U.S., according to Johns Hopkins University data.
According to Tracking Project data:
No states reported record cases Tuesday.
Arizona still has the most residents hospitalized with the virus per capita, at 580 per million.
Texas had the most new cases per million at 906.