Covid Cases Declining in Midwest, Climbing Along U.S. Coasts
(Bloomberg) -- After weeks of pummeling the Midwest, Covid-19 cases in the region are now slowing as they rise along the coastlines of the U.S.
On Monday, every coastal state except New Jersey and Louisiana saw daily cases at least 10% higher than two weeks prior. Connecticut reported the worst new caseload per capita, according to Covid Tracking Project data, with 2,280 cases per million residents, though this figure is inflated by delayed weekend reporting. New Hampshire, Vermont and Maine showed some of the worst trajectories.
The Midwest, on the other hand, saw respite. North Dakota, South Dakota, Minnesota, some of last month's most intense hot spots, were falling by more than 10% compared with 14 days ago, and the region overall is 20,000 daily cases below its Nov. 13 peak. Many of those states in recent weeks imposed masking and social distancing rules after months of resistance.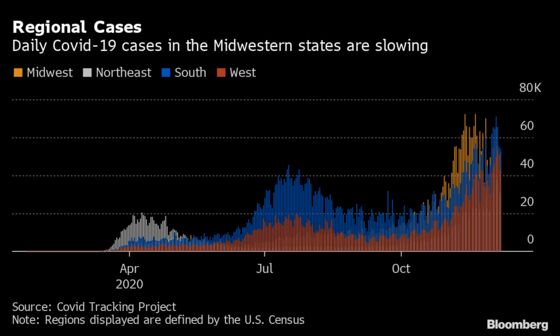 The pattern is reminiscent of the pandemic's earliest days in the U.S., when infection spread first through coastal hubs like Seattle and New York. The country is now averaging about as many deaths per day as it was in April.
The case trend mirrors a similar situation in hospitals, where Midwestern states and Hawaii were the only ones to see the strain on medical institutions soften. Thirty-four states reported a significant rise in patients currently hospitalized -- greater than 10%.
Nationally, the U.S. reported 180,193 coronavirus cases Monday, according to the Covid Tracking Project. There have been more than 283,000 deaths, according to Johns Hopkins University data.
According to Covid Tracking Project data:
There were 102,148 people hospitalized with the virus in U.S.
New Hampshire, Connecticut and Tennessee posted single-day records in new cases Monday.