U.S. Funding for Covid Tests in At-Risk Areas Extended to April
(Bloomberg) -- An additional $550 million funding extension announced Thursday means thousands of Covid-19 testing sites in vulnerable U.S. areas will continue to operate into April.
The program primarily provides testing sites in areas with "moderate-to-high social vulnerability" according to an announcement from the U.S. Department of Health and Human Services. The effort began in spring 2020. It is run through retail pharmacy chains, including CVS Health Corp., Rite-Aid and Walgreens Boots Alliance Inc.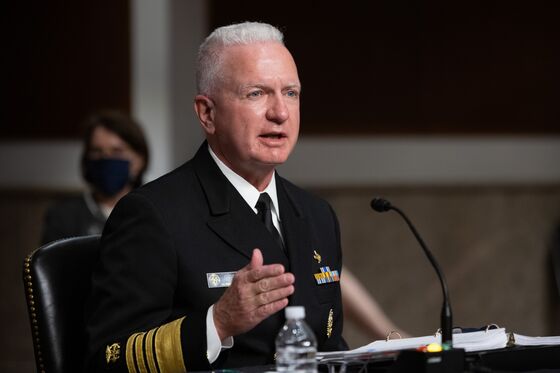 Over 250 million Covid-19 tests have been performed in the U.S. so far, Brett Giroir, the assistant secretary for health, said in a Thursday briefing. He touted the progression of Covid-19 testing in the U.S. with an emphasis on the future of home-testing capabilities.
Giroir's comments come as President Donald Trump's term comes to a tumultuous close. The U.S. Congress officially confirmed Joe Biden as the next president early Thursday morning after Trump supporters violently stormed the U.S. Capitol building.
Giroir will leave his position on Jan. 19, he said, as Biden brings in his own team to lead the coronavirus pandemic response.
Giroir was asked if he considered resigning from his position as some administration members have following the storming of the Capitol building. He said that while he was "deeply disturbed" by the violence, he feels he has an "overriding duty" to continue his work and ensure there's a "smooth" transition for the incoming administration.
Among the biggest hurdles Biden's testing team will face is the continued shortage of supplies and the emergence of a variant Covid-19 virus that appears to be more transmittable than the original virus. So far, scientists believe most current Covid-19 tests are still able to pick up the new variant, two testing specialists said at an Infectious Diseases Society of America event on Wednesday.
Biden will also continue many of the programs initiated by the Trump administration, like a home testing pilot program run by the National Institutes of Health with academic and private sector partners that Giroir announced on Thursday.
The program is designed to use millions of tests to study how effective home tests are, Giroir said, including the effect any false positives may have on test-takers.