Covid-19 Surge Begins Reaching Older, More Vulnerable Floridians
(Bloomberg) -- Florida is reporting an unprecedented number of Covid-19 cases, but Governor Ron DeSantis has pointed to the relatively low median age of the sick -- 36 -- to suggest that the outbreak isn't having serious clinical consequences.
But now, record numbers of Floridians 75 and older are testing positive for Covid-19, according the latest report from Sunday, which reflects data through Saturday.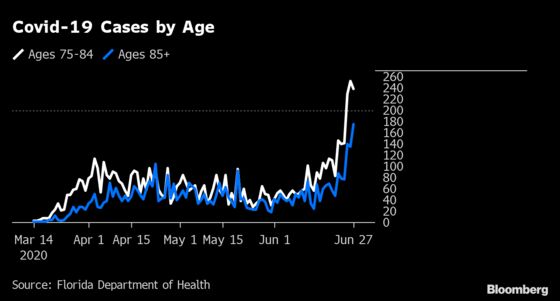 Older Floridians largely avoided the state-wide uptick in cases earlier in the month. However, that has been changing in the past week.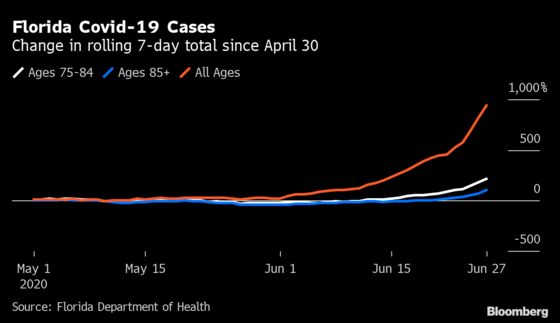 Florida hasn't seen a departure from its relatively low rate of Covid-19 deaths, but it can take weeks from onset of symptoms to death, and the surge in infections is recent.
The new positivity rate -- which measures the proportion of people testing positive for the first time compared to the day's overall testing -- started climbing significantly about two weeks ago.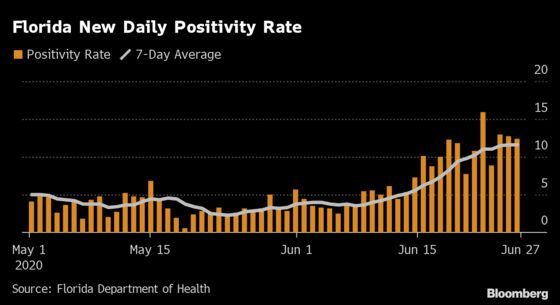 Explore the statistics yourself at Florida's Covid-19 data hub.