Coveney Narrow Favorite to Succeed Hogan Amid Gender Dilemma
(Bloomberg) -- Irish Foreign Minister Simon Coveney is the favorite to succeed Phil Hogan as the nation's European Commissioner. But he's by no means a certainty, odds indicate.
Coveney is a 52% shot, according to bookmaker Paddy Power. Mairead McGuinness, first vice president of the European Parliament, has a 44% chance, odds show.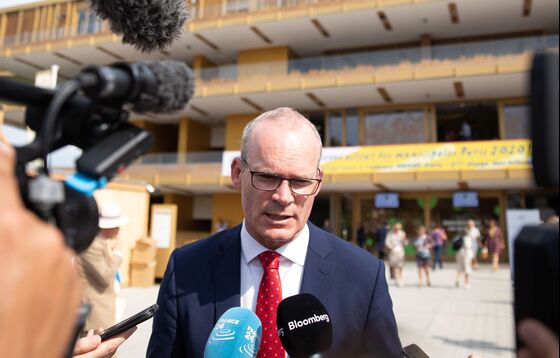 In McGuinness's favor, Commission President Ursula Von der Leyen has demanded Ireland put forward male and female nominees. She has previously pointed out that less than 20% of commissioners since 1958 have been women, adding we "want our fair share." Including Von der Leyen, there are 12 female members of the Commission and 14 men.
Below are snapshots of the key contenders.
A former deputy prime minister, Coveney's profile in Europe rose during the long stand off with the U.K. over how to keep the Irish border invisible after Brexit. With that issue largely resolved, the former member of the European parliament may now want a new challenge. Coveney, 48, lost out to Leo Varadkar to become Fine Gael leader and prime minister in 2017, and while he hasn't given up those ambitions, there's no sign Varadkar is planning to move aside anytime soon.
The Corkman's resume may offer Ireland the best chance of retaining the powerful Trade portfolio. In an interview with RTE on Monday, he said he would be interested in the role if he could add to Ireland's influence, suggesting he would want a prominent portfolio to move.
Mairead McGuinness is first vice president of the European Parliament, where she has been a member since 2004. While a high-profile figure in Brussels, she is less well known in Ireland, having never been a domestic lawmaker. The 61-year old failed to win election to the nation's parliament in 2007, and four years later, she missed out on her party's nomination for Ireland's presidency, a largely ceremonial role.
The former journalist is an assured media performer, routinely appearing in international media to explain Ireland's Brexit position. She's interested in the job, she told RTE on Sunday. Describing herself as "firm and fair," she played down the importance of Ireland retaining the Trade role.
Despite ruling himself out, Leo Varadkar, currently deputy prime minister, is still rated as a 20/1 shot.
Frances FitzGerald is a former Irish justice minister who is now an MEP. She resigned as an Irish minister in 2017 amid accusations of footdragging in a whistleblower case, although an inquiry later cleared her of wrongdoing and said she acted "selflessly." Varadkar has spoken of his regret over her treatment, and she's rated a 12% shot to succeed Hogan.
Richard Bruton is a longtime Irish minister who is now chairman of Fine Gael's parliamentary party. He lost out to Enda Kenny to become party leader in 2010, before holding the education and environment portfolios and is known as a safe pair of hands. He has a 4% chance, according to Paddy Power.
David O'Sullivan is a former EU ambassador to the U.S. and long-time Brussels technocrat. He has held numerous positions within the EU bureaucracy, including Director General for Trade and was the commissions' top civil servant from 2000 to 2005. Though his name has been mentioned in press reports as a potential candidate, his chances aren't ranked by Paddy Power.
Catherine Day succeeded O'Sullivan as the Commission's top civil servant, holding the position until 2015. She was a special adviser to former president Jean Claude Juncker until 2018, and is given a 4% chance of filling the commission role.