Cotton Drops by Exchange Limit as U.S.-China Tensions Escalate
(Bloomberg) -- Cotton is among the markets getting hit hard by rising trade tensions between the U.S. and China, the world's largest consumer of the fiber.
Futures declined by the 3-cent exchange limit in New York to the lowest since September 2016.
A number of factors are making the declines worse than other commodities. The latest ratcheting of tensions is quickly erasing optimism that China will remove its 25% duty on American fiber anytime soon. Even worse, there's speculation the Asian nation could cancel purchases of the commodity that haven't yet left U.S. shores. The dispute threatens to roil the global economy, and cotton demand usually moves in tandem with the outlook for expansion.
"Cotton pays a lot of attention to the relative health of the world and domestic economy, and the stock market has been getting hammered, mostly due to the tariff wars," Jack Scoville, vice president at brokerage Price Futures Group, said in an email. "The tariff wars are hitting cotton from two directions."
The U.S. is the world's top cotton shipper and more than three-quarters of the domestic crop goes into exports, which are heavily dependent on China. Escalations in the trade war come at a time when expanding production meant American inventories were forecast to reach a decade high.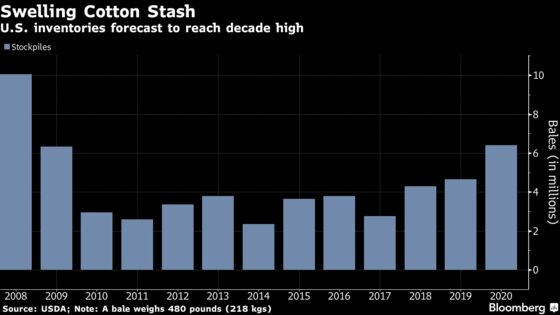 The combination of the trade tensions and rising U.S. supplies is "very, very bearish," Louis Rose, director of research & analysis at Rose Commodity Group in Memphis, Tennessee, said in an email.
In the 2018-2019 marketing year, about 1.96 million bales of cotton have been sold to China, of which 829,000 bales still need to be shipped, according to U.S. Department of Agriculture data compiled by the National Cotton Council of America. For the 2019-2020 season that starts Aug. 1, 1.4 million bales have been sold to China -- and all of that is vulnerable to cancellations. A bale weighs 480 pounds, or 218 kilograms.
"What we've sold to them, people are concerned they are not going to take that," said Jody Campiche, vice president of economics and policy analysis for the National Cotton Council of America.
Cotton for July delivery fell by the 3-cent exchange limit, or 4.4%, to settle at 65.45 cents a pound in New York, the biggest percentage loss for most-active futures since June 2018. Prices declined for a sixth straight session, the longest losing streak this year.
Prior to the recent escalation, U.S. cotton industry members hoped that the tariffs would be removed, and were looking to start exporting more to China, Campiche. There's a longer-term fear that Brazil may continue to take more market share.
Monday's price move "is all related to China," she said.
Money managers turned net bearish on cotton in the week ended May 7, the first time since mid March, U.S. government data showed on Friday. Recovering global production, the deteriorating trade outlook and rising U.S. inventories has left Rabobank bearish through late 2019, the bank said in a report Friday.