Home-Equity Loans in U.S. Cost Most in 11 Years
(Bloomberg) -- American homeowners, benefiting from years of rapid price gains, are sitting on a near-record pile of home equity. But the cost to tap into it with a line of credit is now the highest in 11 years.
The average rate for a home equity line of credit, or Heloc, reached almost 6.8 percent at the end of last month, according to Bankrate.com. That's the highest in the firm's weekly data since January 2008. Meanwhile, homeowners in the third quarter tapped $37 billion of home equity through Helocs, down 6 percent from a year earlier, the most recent figures from data provider Black Knight Inc. show.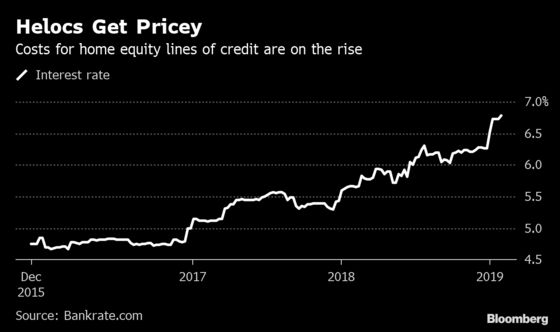 The lines of credit -- which allow borrowers to finance renovations, consolidate credit card debt or pay for a wedding or vacation -- have gotten more expensive as the Federal Reserve started raising short-term interest rates in 2015. Helocs are pinned to the prime rate, which moves in tandem with the federal funds rate.
Typically for the first 10 years, Heloc borrowers can make interest-only payments, which vary as the prime rate moves up or down.
"We're seeing a very noticeable pullback," said Andy Walden, director of market research at Black Knight. "Some homeowners are opting for cash-out refinances instead, while others are choosing not to tap into equity at all."
The borrowers who are using Helocs now are probably turning to them because they are in need of cash, and not for strategic reasons, said Greg McBride, Bankrate's chief financial analyst. It's not just borrowing costs that have changed. Last year's tax overhaul restricted the conditions in which interest paid on home-equity loans is deductible.
"Rising interest rates and the change in the tax law does take away some of the appeal," McBride said. "But the fact is, people who need money often look at home equity as found money."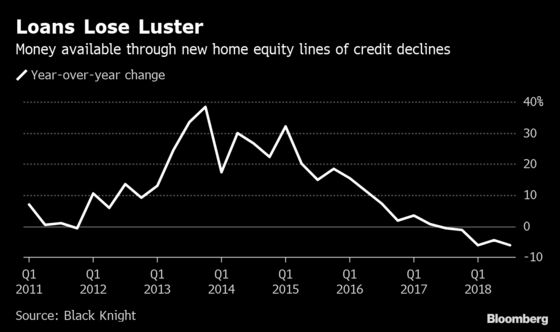 Americans in the third quarter had $5.94 trillion in equity that was available to be tapped, down slightly from a record $6.06 trillion in the previous quarter, according to Black Knight.
For homeowners looking to draw on some of that equity, there are potentially cheaper options than Helocs. Thomas Bepko, executive vice president of Total Mortgage, a lender based in Milford, Connecticut, said he often suggests cash-out refinances, in which borrowers take out new loans with larger balances to free up money.
Cash-outs have their own downsides: A homeowner may be giving up a mortgage with a lower rate, but at least their costs are fixed. Heloc borrowers, on the other hand, face the prospect of more rate hikes, Bepko said.