Corporate Debt Issuers to Kick Off Sales With Up to $35 Billion
(Bloomberg) -- Sales of U.S. high-grade bonds will total between $30 billion and $35 billion next week, according to an informal survey of dealers at some of Wall Street's biggest banks.
The market remains inviting for potentially supercharged debt issuance with funding costs at the best levels ever for the start of a year and incentive to get ahead of potential U.S. election-induced volatility beginning in March. About $120 billion is forecast for January, an increase of 9% from last year.
The New Year holiday landed on a Wednesday, likely prompting borrowers to hold off until next week, dealers said. Last year the primary market saw nothing on Jan. 2, however about $10 billion was sold over the following two days.
Generally, the majority of January debt sales comes from the financial sectors as banks try to fulfill their funding needs following earnings releases. JPMorgan Chase & Co. will lead the charge starting Jan. 14.
The high-grade bond spread, the added premium over U.S. Treasuries investors get paid to hold riskier debt, fell to 93 basis points on Tuesday, the tightest level since February 2018. Meanwhile there is about $78 billion in U.S. high-grade corporate bonds coming due or that may be called in January, according to data compiled by Bloomberg.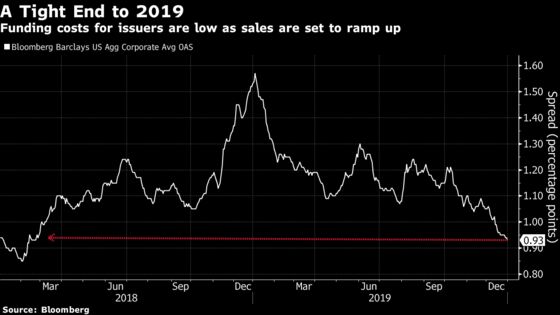 Inflows into investment-grade bond funds have been strong. Last week investors added $5.16 billion in the sector, the largest increase since Nov. 20, according to Refinitiv Lipper. The firm next reports its weekly number later today.