Corporate Bond Sales Fall Off Cliff
(Bloomberg) -- Companies yanked back the reins on bond sales this month amid the widespread carnage in financial markets.
Just $6 billion of new U.S. investment-grade bonds hit the market this week, short of the $15 billion to $20 billion estimate, according to data compiled by Bloomberg. It's the third time in four weeks issuance missed expectations and the worst week since August. October's supply looks likely to fall well below estimates of $110 billion and the $114 billion of volume seen in the same period a year earlier.
"We've seen more volatility going into October, people concerned with the higher rates and trade wars, Saudi Arabia -- name what you want," said Arnold Kakuda, senior credit analyst covering global banks for Bloomberg Intelligence. "We've had a broad risk-off movement."
The most striking absence from the market is major banks, which in recent years sold bonds after reporting third-quarter earnings. Many of them took care of funding needs earlier this year, Kakuda said. Plus, volatile interest rates and a sell-off in equities discouraged issuance.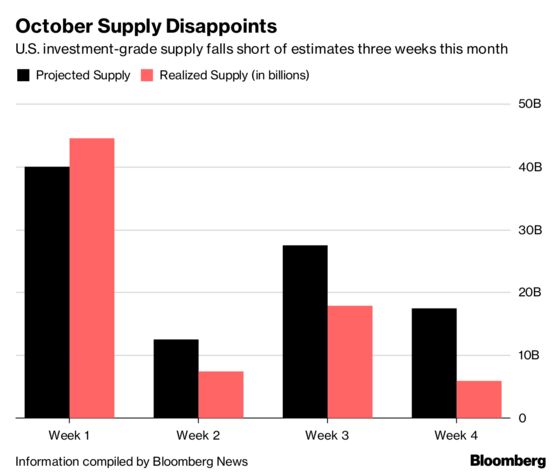 Only two big banks -- JPMorgan Chase & Co. and Wells Fargo & Co. -- sold bonds after reporting earnings earlier this month, adding about $4 billion to a market that has seen more than $900 billion of issuance so far this year. SunTrust Banks Inc., a regional bank, sold $1.4 billion worth of bonds on Tuesday.
High-grade bond spreads have widened more than 10 basis points since the beginning of the month, reaching their highest level since July, according to the Bloomberg Barclays U.S. IG Corporate Bond Index.