Corporate Bond Market Battered by Same Woes Beating Up Stocks
(Bloomberg) -- It's not just stocks. Corporate bond investors are also spooked.
U.S. bonds, which for much of the year traded independently from equities, are tumbling in tandem with shares as concerns about rising interest rates push investors to shun risk. This pattern also appeared during slides in February and April.
Company debt -- generally considered a safer bet than equities -- haven't sold off as much as stocks this month, but they have suffered big declines. The high-yield debt benchmark is set for its worst month in more than 2 1/2 years, while the investment-grade index's October slide is so far the largest since February's tumble, which was the most in two years. The S&P 500 is headed for the biggest monthly tumble in eight years.
"There's no longer an insatiable bid for credit," said Zachary Chavis, a portfolio manager at Sage Advisory Services. "Right now the economy seems fine, but people are sounding more cautious."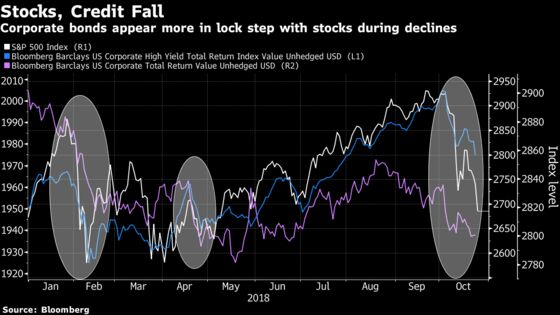 Still, the corporate bond sector is vast and some securities are outperforming others. For instance, CCC rated debt is holding up relatively well.
But high-grade bonds may have predicted the stock slump. This summer they decoupled from equities and trended lower, which Bank of America Corp. analysts said may have been a warning about higher rates to other asset classes.
That caution proved prescient. Stocks and other risk assets have been battered since the start of October amid fears about the impact of rising interest rates, just as some see the economic cycle turning.
"What's happening broadly is that risk assets are repricing," said Scott Kimball, portfolio manager at BMO Global Asset Management in Miami. "Once you got above 25K on the Dow, people were content to think that any higher rate regime would be temporary. But we're now in a world where we're north of 3 percent on the 10-year, 30-year, that hasn't happened in years."